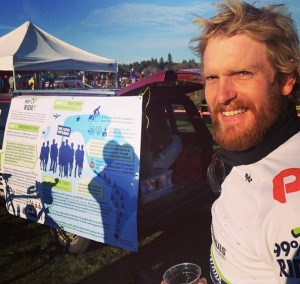 Join Dirk Spits of the 99%Ride for
the After Turkey Ride on Friday.
Greetings friends! We hope you are all enjoying the holiday weekend with whatever traditions you prefer. There are a few rides and events we wanted to make sure were on your calendar. And because this is the official start of the holiday shopping season, we thought you might like to know about a few fantastic sales going on at our local bike shops.
First, here are some of the big Black Friday and weekend/winter sales events we've heard about…
Clever Cycles – Starts Friday at 11:00 am, 900 SE Hawthorne
The big deal at Clever this time of year is the sale they have on their rental bike fleet. It's the only time of the year they sell used bikes and it's a great opportunity to own excellent brands and do business with this highly respected local business. Here's the blurb from Clever:

"It's a rare opportunity to acquire Brompton, WorkCycles, Breezer and other distinctive bikes, all completely equipped with generator lighting, fenders, racks, stands etc., at well under retail.

The fleet goes on sale Friday, Black, at 11am. First come, first serve. We will provide a sign-up sheet the morning of so you don't have to actually stand in a line. Local sales only; you must ride to decide. If that doesn't whip you all into a frenzy of craven holiday commerce, we will have several Surly, Breezer, and other bikes marked down for the occasion…

All of our rental bikes include dynamo lighting, fenders, and the capacity to hold some sort of luggage. While our rental bikes are priced approximately 30% below the normal retail price, we don't rent junk, so most bikes will be priced above $1000. We will include a 45 day warranty on parts and labor."
They're also giving away $5 gift cards with each $50 gift card purchase. Learn more at CleverCycles.com.
West End Bikes – Starts Friday at 10:00 am, 1111 SW Stark
West End is having a "Holiday Head Start Sale" where you can get "at least" 10% off all regular priced items in the store (except 2014 bikes). This shop has an awesome selection of fashionable, bike-friendly apparel from brands like Levi's and Mission Workshop.
Cyclepath – Starts Friday at 9:00 am, 2436 NE Martin Luther King Jr. Blvd.
The fine folks at Cyclepath are offering 20% storewide (except 2014 stuff) and up to 60% off some specially marked items.
Blaq Packs – Starts Friday at 12:00 pm, SE 11th and Division
Blaq is offering 20% off their custom bags, accessories and pedal straps this weekend at their retail store and at Blaqpaks.com.
River City Bicycles – Starts Friday at 10:00 am, 706 SE Martin Luther King Jr. Blvd (main store)/534 SE Belmont (outlet store)
I'll let their awesome ad do the talking…
BikeCraft – Saturday and Sunday
It's the ninth annual BikeCraft and it all starts at 11:00 this Saturday at Velo Cult. This is the place to find locally made, bike-inspired goods that will make all the bike lovers on your list happy. Get all the details at BikeCraftPDX.com
And now, let's ride some bikes! Here are a few rides to help you pedal off all that holiday food…
The 99%Ride After Turkey Ride – Friday
Join world traveler charity rider Dirk Spits and learn more about his adventurous effort to raise money for children in La Paz, Bolivia. Meet at 10:30 am at Velo Cult (1969 NE 42nd Ave). More info here.
Frogger & Biscuits Ride – Saturday
Join the nice folks of Puddlecycle for a ride that meets at Ground Kontrol for some arcade game action, then rolls over to Hungry Tiger for biscuits and gravy, then onto BikeCraft for more holiday merriment. You can't go wrong with this ride! Meet's at 12:00 noon at Ground Kontrol (511 NW Couch). More details here.
Winter Cross – Sunday
If you're still stoked on cyclocross or just wanted to try it for the first before this season ends, you've got one last chance to do a local(ish) race. The Winter Cross is the penultimate event in the Gran Prix Erik Tonkin series and it's just a few miles north up in Washougal, WA. Get details here.