Our friends with the Safe Routes to School program in Eugene have just announced the theft of an entire fleet of bikes used in their bike education classes. Program manager Shane MacRhodes says a trailer containing 40 Bike Friday bicycles and related gear totaling about $30,000 was stolen from a parking lot at Prarie Mountain School in West Eugene.
Here's more from MacRhodes:

"… last seen Saturday about Noon. The church group at the school said they didn't see the trailer there on Sunday morning at 6:30. The City of Eugene Bike Safety Instructor arrived at the school early Monday morning and saw that the trailer was gone and called to report it."
Here's a closer look at the 20-foot Cargo Mate trailer…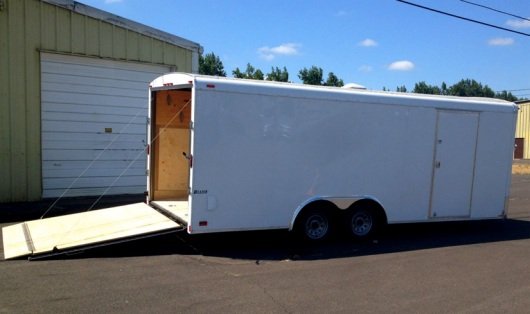 Also inside the trailer were:
40 Reflective safety vests
45 Helmets
Full Park Tool kit & repair stand
3 walkie-talkie radios (Midland
6 traffic safety signs (stop, yield, one-way, pedestrian)
small air compressor (Orange Black & Decker) & extension cord
Bike floor pump (yellow Topeak Joe Blow)
Tubes and parts
The bikes are owned by the 4J School District and the City of Eugene staffed the bike education program. Watch for these bikes popping up on Craigslist and/or appearing on streets in your neighborhood. If you have any leads or information, please contact Shane MacRhodes at (541) 556-3553.