[Story and photos by Russ Roca of The Path Less Pedaled]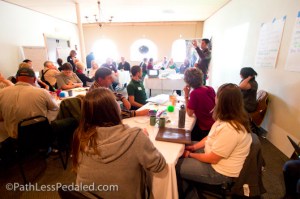 Eastern Oregon is known for its dry climate; but there's something taking root along its gorgeous backroads that could help grow the economy of its many small communities: bicycle tourism.
A makeshift meeting room in the Outpost Pub and Grill in John Day (pop. 1,744) is probably the last place you'd expect talk about the need of a bicycle friendly business program, community bike share or bike racks. However, this is the sort of quiet magic that a small, road-weary crew comprised of representatives from Travel Oregon and the Oregon State Parks and Recreation Department have been performing through many rural Oregon communities over the past year.
Travel Oregon sustainable tourism expert Kristin Dahl, bike travel consultant (and former Bicycle Transportation Alliance executive director) Scott Bricker, and Alex Phillips from Oregon Parks and Recreation have been traveling throughout all corners of the state giving workshops about rural marketing and bicycle tourism. It's all part of a coordinated effort to establish Oregon as a premier bicycle touring destination.
Oregon's State Scenic Bikeway program has exploded in recent years, and there are currently nine officially designated routes in the system.
-Download a PDF of this map
here
–
With the announcement of the Old West Scenic Bikeway, a 174 mile scenic loop developed specifically for cycling, community leaders and business owners from all over Grant County (which includes the small communities of Prairie City, Mt. Vernon, Monument, Lone Creek, Bates and Dayville) met this week to discuss how to make their area more appealing to bicycle tourists.
Mike Cosgrove, a local proponent of the new scenic bikeway, managed to pull in 50 people from throughout the county, making this, as far as anyone remembered, the largest meeting to talk about bicycling Grant County has ever seen. And it's likely, just a sign of things to come.
After morning introductions and an overview of tourism statistics, Scott and Kristin led an energized room of community members through a series of exercises to identify their region's assets and how they can better accommodate people who ride bikes. Suggestions ranged from providing craft beer, to installing secure bike parking, providing wireless internet, adding bike racks to regional buses and to creating a bicycle friendly business campaign called 'Two Wheels Spoken Here'.
Oregon's State Bicycle Recreation Coordinator Alex Phillips shared a map of the burgeoning scenic bikeway network she has helped bring to life…
Many community members also brainstormed on creative activities for people to do off the bike, including fishing, birding, horseback riding and geological tours of the area. One of themes that was emphasized was the importance of retaining the region's character to provide a unique experience for visitors.
Some of these communities are not completely new to the idea of bicycle tourism. Adventure Cycling's TransAmerica Trail has passed through a portion of the region since the 1970s. A church in Dayville, for example, which has been on the TransAm route for a number of years, offers indoor accommodations to passing bicycle tourists.
Local cycling advocate Christy Rheu operates the Bike Inn in Mt. Vernon which is also on the TransAm route. What is new, however, is that the Old West Scenic Bikeway is designed as a 3-day loop ride which guides riders through lesser known and quieter parts of Grant County. Its purpose is to highlight some of the best and most iconic riding within the state of Oregon, rather than just move them across the state.
Just how enthusiastic are folks in eastern Oregon about bicycle touring? Check out the cover of their visitor's guide…
Although it was a long day of presentations and brainstorming many people stayed for the entire workshop. Kristin Dahl from Travel Oregon was impressed with the community engagement and remarked that it was one of the most successful bicycle tourism workshops they had given.
In the photo below, attendees prioritize next steps on the road to bike travel bliss…
Learn more at the Oregon State Scenic Bikeways website and stay tuned to The Path Less Pedaled for videos, photos, and more dispatches about traveling by bike in Oregon.