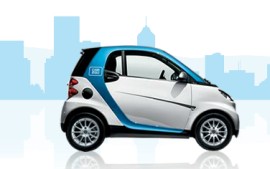 Just six weeks after peer-to-peer carsharing start-up Getaround launched in Portland, another company with yet a different variation on the theme is set to launch this weekend.
Instead of renting a car from one of your neighbors like Getaround or reserving a Zipcar and then finding one parked nearby, car2go (a wholly owned subsidiary of Daimler North America Corporation) offers a more flexible option. The company refers to it as "A different way to carshare." They also say it's particularly appealing to people who bike.
Here's how it works: Registered users locate one of the company's specially outfitted Smart cars within the designated "Home Area" (a 34-square mile swath of the city). A simple swipe of a card gets you in the car and you can drive it for as long as you want, anywhere you want, and then park it anywhere in the Home Area (with some exceptions). No reservation is needed and you do not have to commit to a return time or a specific location. Parking, fuel, insurance, and maintenance are included with the one-time registration fee of $35.
Once registered, you then pay 35 cents a minute. One hour costs a maximum of $12.99 and you can drive up to 24 hours for $65.99 (the more you drive the cheaper it gets).
Nicholas Cole, CEO of car2go CEO Nicholas Cole (who's in Portland for the launch) says his system is particularly friendly for people who tend to bike a lot. "car2go complements all types of mobility including biking, walking and public transportation," he shared with me via email today, "Even people who bike a lot may occasionally need a car, and car2go gives them a flexible, convenient way to drive when they need to."
car2go is currently in just two U.S. cities (San Diego and Austin) and has 70,000 members worldwide. The company is hosting a free public launch event at Pioneer Courthouse Square this weekend. Check out their website for more info.
For more on how carsharing fits into the low-car Portland lifestyle, check out our story from December: Sharing cars and bikes; a one-two punch for low-car Portland.
Contact Jonathan at @jonathan_maus on Twitter, via email at maus.jonathan@gmail.com, or phone/text at 503-706-8804. Also, if you read and appreciate this site, please become a supporter.