Bike builders and design pros
from around the country
unveiled their entries for
the Oregon Manifest
Constructor's Design Challenge
this morning in Northwest
Portland.
–
Photo Gallery
–
(Photos © J. Maus)
The entries into the 2011 Oregon Manifest Constructor's Design Challenge have been revealed and urban utility bike design will never be the same.
Right now at the Pacific Northwest College of Art in Northwest Portland, some 40 entrants from all over the country are displaying their bikes for the first time. The mission was to build the "Ultimate modern utility bike" and these competitors have definitely answered the call.
Back when this contest was first held in 2009, most of the bikes were randonneur-style road bikes. The majority of competitors didn't break new ground. This time it's totally different.
The competitors have risen to meet the challenge.
At the big reveal this morning there was a dizzying array of utilitarian diversity and very little of it was off-the-shelf. There were custom designed bags, racks, integrated lights, stereos and lock systems, several longtails, custom fenders (including one that was hand-rolled down), wheels of all sizes (often on the same bike) and many other exciting designs that it will take days to fully process.
Check out more photos and notes below and stay tuned for more coverage…
Dave Levy of TiCycles (Portland) is turning a lot of heads. One neat feature of his bike (there are many) is the kickstand… which is also the seatstay and chainstay. It folds down to hold up the bike and then folds up and locks into place to become part of the frame.
---
The Cielo (by Chris King, Portland) entry is very sexy. Highlights include custom bags by Truce Designs (Portland) that mimic the curve of the rear wheel. The fenders are also custom-imprinted with the Cielo logo. The twin top-tube also makes a nice place to stow the frame pump and u-lock.
---
Tony Pereira (Pereira Cycles, Portland) won this event last year and he's got a lot of buzz around his bike this time around too. He's taken the same basic idea as last time, but added some nifty features. His bike has a Bionx e-assist with the battery cleverly placed to mimic the classic Schwinn-cruiser gas tank aesthetic of the 1950s. The other notable feature of Tony's bike is the big carbon fiber front rack (made by Portland's Ruckus Components). The rack has integrated slots for a smart phone, the Bionx digital readout, and a thumping stereo.
---
Curtis Inglis (Retrotec, Napa, CA) has entered a gorgeous longtail with swooping lines that really make it stand out from the crowd. He's also finished the long rear deck and foot boards with very cool printed graphics.
---
Joshua Muir of Frances Bicycles (Santa Cruz, CA) debuted an interesting steering system for his front-loader cargo bike entry. It's a cable/pulley system. I also liked his idea of hanging a bag from the top, instead of just putting things in a large bucket. The bike also has couplers that allow it to be folded down for easy traveling/packing.
---
The Geekhouse Bikes (Boston, MA) entry has some neat aesthetics and design features. The tiny but bright integrated front and rear LED lights (set up to a hub generator) are very slick. Builder Marty Walsh also integrated a U-lock that straps to the bike.
---
Rob Tsunehiro (Portland) has put together a gorgeous bike with both innovative utility features and a classic look. Custom leather saddle bags (by Portland-based Blaq Designs), a frame-mounted front rack, and a nifty mesh frame bag. Another cool feature is that the bike is finished with Halo Coatings reflective paint for safety.
---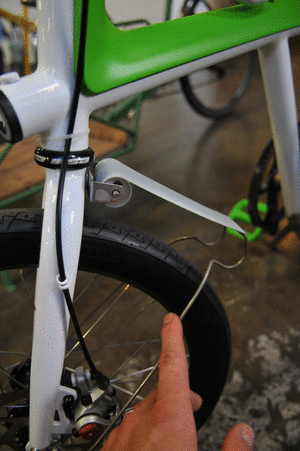 The fender rolls out by hand
This entry from the University of Oregon Student Team really shows some depth of thought. The team of seven design students set out to create the ultimate student/campus bike. It's got a 3-speed internal shifter and it's completely custom from the ground up. This "mini-velo" is made to accept various "plug-ins" on the front and rear. The plug-ins can include racks, lights, or different head badges to suit your style. The green plastic bits on the frame can be swapped out for different colors and there's a lockable, stowaway big near the rear triangle. One of the students said the main idea was to make the bike "approachable, non-intimidating for new riders, and easy to use."
— —
You are all invited to see the bikes in person tonight at 7:00 pm at Pacific Northwest College of Art. More info at OregonManifest.com.