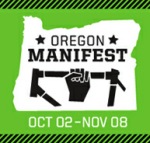 The Oregon Manifest is right around the corner!
Organizers have unveiled the final program for this year's six-week long celebration of the art, culture, and craft of bicycling. The multifaceted program promises to put a creative, utilitarian spin on all aspects of bicycling from framebuilding to racing — and aims to put them in front of a broad audience by tying them into the realm of everyday, transportational cycling.
The three day long 2008 Manifest was a major event that grasped at the gestalt of Portland's cycling revolution, bringing together high-end framebuilders and freakbike welders with racing teams, all stripes of bicycle industry, and some of the zanier sides of local cycling culture.
advertisement
The 2009 Manifest is far, far more ambitious, featuring six weekends of events that more fully and explicitly calls out the range of elements that are launching Portland towards world class cycling status. Frame builders, bike funnists, people who ride with kids, 'cross racers, artists, the booming local bike business sector, our European influence, and of course beer all will enjoy the spotlight.
Here is just a sampling of what's in store:
– The Constructor's Challenge and Race, in which framebuilders create and then race their version of the ultimate transportation bike.
– Family Bicycle Transportation Day, including a huge demo of best options and a solutions workshop
– Cycling Lifestyle Fashion Show, hosted by Momentum Magazine and Team Beer
– Singlespeed Cyclocross World Championship
– Dreams on Wheels Danish Cycling Culture Exhibit
– Artcrank: A Poster Party for Bike People
And that isn't all.
We've signed on as the media sponsor of the Manifest, and will keep you up to date on events and more of the highlights as details emerge leading up to the show.
– For more, check out OregonManifest.com and browse our coverage of the 2008 event.
– Chris King Precision Components is the presenting sponsor of the 2009 Oregon Manifest