Posted by Jonathan Maus (Publisher/Editor) on May 28th, 2008 at 11:20 am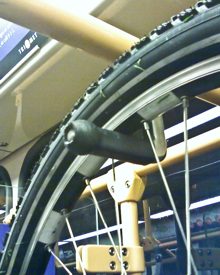 TriMet has confirmed that they are testing a rubber coating on the bike hooks in some their MAX light rail trains.
According to bike programs intern Colin Maher, they have been testing the rubber coating on five trains for the past two months. "We're testing the durability of the coating," says Maher "and making sure that the hooks can still accommodate most tire and rim combinations."
TriMet hopes the rubber coating will make bike rims more secure and less susceptible to damage. Maher adds that they are wary of making the hooks any larger in diameter because they realize some large, knobby bike tires and wheels with narrow spoke spacing (like the 20-inch wheels on folding bikes and minis for instance) don't fit.
Have you used these rubberized hooks yet? If so, what did you think?
---
[Editor's note: I realize many readers are concerned that there are not enough hooks on the MAX. I am working on a story about that and will publish it soon.]
Jonathan Maus is BikePortland's editor, publisher and founder. Contact him at @jonathan_maus on Twitter, via email at maus.jonathan@gmail.com, or phone/text at 503-706-8804. Also, if you read and appreciate this site, please become a supporter.