[Updated: 8:31am, 2:13pm, Monday 10:13am) – Please see end of story for updates.]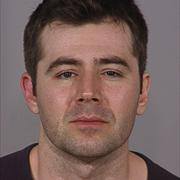 Jeremy Jordan was arrested
Saturday afternoon.
(PPB booking photo)
The Portland Police Bureau's Major Crash Team was called to the scene of a serious injury hit-and-run that occurred at 2:44 am this morning (Saturday, 5/10) at the 6900 block of NE Fremont St. (just north of Sandy Blvd).
According to the PPB, officers have determined that 30 year-old Jeremy Jordan entered a nearby Safeway to buy some beer. When employees refused, he reportedly attempted to steal the beer.
Jordon then ran to his car and began to drive out of the parking lot "at a high rate of speed".
The PPB then reports that, "As the suspect reached the exit to Northeast Fremont and began to turn westbound, the suspect hit a 36-year-old bicyclist [who has now been identified as Eric Davidson] who was riding eastbound on Northeast Fremont Street. The suspect fled the area."
Davidson sustained severe injuries in the collision and is currently at Emanuel Hospital.
---
UPDATE (Saturday, 5/10, 2:13pm): An arrest has been made. Here's the latest information from the Police Bureau:
Investigators from the Traffic Division Major Crash Team have arrested 30-year-old Jeremy Jordan on one count each of Assault in the Second Degree, DUII, Reckless Driving and Felony Hit and Run.

The victim, 36-year-old, Eric Davidson was transported to Emanuel Hospital with life threatening injuries.
Sylvia McDaniel, a PR person for Legacy Hospital confirmed that Davidson is in critical condition. She would not release any further information.
UPDATE (Monday, 5/12, 10:15am):
Here's an updated report on Eric Davidson's condition and how he needs our help (as left in a comment by a friend):
"…as of yesterday he had not regained consciousness and has brain swelling–the main concern right now. His extensive injuries include head, back, kidney and knee. They do not know yet if there is brain or spinal damage yet, and are in a wait-and-see mode. Please send your best energy toward his recovery. He will certainly be hospitalized for many months.

…A website has just be set up for information and assistance for Anna-Carin. Anyone can sign up there and we will be adding information and help-needed requests and we determine them.

Eric and Anna-Carin were in the process of adding a second bathroom themselves in order to more quickly sell their house, so at this point I can guess building assistance in finishing up the bathroom, and afterward general yardwork etc. to maintain the property for sale would be helpful (they were planning to stay local but need to move).

I'm also thinking that any professional advice on how to proceed medically, financially and legally would be gratefully appreciated. There seems to be a good knowledge base here. You are welcome to contact me through the site and I will get you to Anna-Carin.

I will be conferring with her soon to find out how to best help her. Thank you all again for your words of support."