by Michael Andersen (News Editor) on April 25th, 2016 at 10:11 am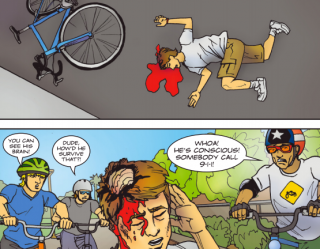 This message brought to you by the City of Phoenix.
Here are the bike-related links from around the world that caught our eyes this week:
Dangerous activity: Phoenix decided to promote safe bicycling with a series of "graphic novels." In the first, a dog runs in front of a young man biking without a helmet; he flips 180 degrees upside down and smashes his head on the ground, making his brain visible.
Healthy activity: Every hour a Dutch person spends cycling adds one hour to their life expectancy.