Posted by Michael Andersen (News Editor) on April 23rd, 2014 at 9:24 am
Yellow areas are zoned for single-family homes, blue for mixed-use and multifamily, gray primarily for industry and office (with some residential allowed), green for park and open space.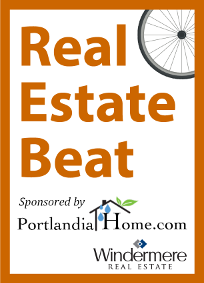 Seven miles is an important distance in the world of bike transportation.
It's about the distance a casual city rider can pedal in an hour, which studies show is the upper limit of the time most humans prefer to commute. It's the distance where, even in the Netherlands, public transit trips become more popular than bike trips (and car trips are eight times more common than either).
So as Portland's apartment rents have jumped an average 11 percent in the last year, with the tightest markets in North and inner Northeast Portland, the city's biking population has felt it — in either their wallets or their thighs.
Here's one factor at play in one of the country's most persistent urban rental shortages: in two-thirds of Portland's central seven miles, it's illegal to build a multi-family building.
It's a broad swath of the city that includes Hillsdale in Southwest Portland, Eastmoreland, Woodstock and Foster-Powell in Southeast. It grazes 82nd Avenue and Rosa Parks Way, taking in the edges of Cully, Woodlawn and Arbor Lodge. Inside the circle, only 31 percent of residential land allows multifamily construction. (Citywide, the figure is 26 percent. Some residential construction, including apartments, is also allowed on "general employment" land, which isn't part of the "residential" land ratio here.)
Even advocates for more housing don't say apartments or condos should be allowed throughout this central area, or even most of it. But as neighborhood associations submit their requests this month for the city's next comprehensive zoning plan — with some, like Eastmoreland, requesting less density — some are calling attention to the anomaly of so much land in the middle of Portland being reserved for single-family homes.
"In Northwest, the zoning allows high-density development, and the market has responded," said Eric Engstrom, principal planner at the city's planning bureau. "In Buckman, it is zoned single-family exclusively. … Probably without zoning, Buckman would be much denser."
Email This Post