Posted by Michael Andersen (News Editor) on April 18th, 2014 at 3:08 pm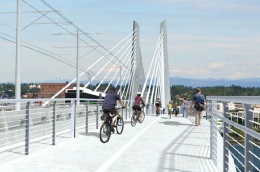 Concept drawing of path on Tilikum bridge.
(Graphic: TriMet).
Rob Kremer, a talk-radio host and the Portlander behind a Republican-donor-funded movement to oppose "Portland creep" in Clackamas County, raised eyebrows on Friday afternoon when he said on Oregon Public Broadcasting's Think Out Loud radio program that TriMet's new Tilikum Crossing bridge is a "symbol of dysfunctional transportation priorities."
About 12 minutes into the program, Kremer shared his strong objections to the bridge because it won't allow access for private automobiles:
"I'm not quite sure about this name Tilikum. They say it means people, tribes and relatives — I think it means streetcars, buses and bicycles in Portland. They can call it Tilikum all they want but the real name of this bridge, by the people, will always be the 'Autoban' … And it will always be a symbol of TriMet's, Metro's and Portland's dysfunctional transportation priorities.

To think we're building a bridge across the Willamette … the first bridge in who knows how long, and not allowing cars to cross it is not only insane, but it's a symbol of dysfunction."
You can hear the exchange below (begins at about 12:46):
A couple minutes later, while challenging support for the bridge expressed by another guest (Bitch Media Online Editor Sarah Mirk, who said she doesn't own a car), Kremer claimed that the bridge is an example of "priorities completely out of whack" because "97% of the trips are by car."
He was off by about 911,000 trips per day. In fact, non-car modes carry 16 percent of Portland-area trips, according to a 2011 survey of 17,000 Oregon households.
Email This Post