Posted by Michael Andersen (News Editor) on October 4th, 2013 at 8:48 am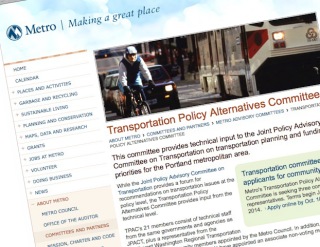 The Portland area's regional government is recruiting three volunteers to join one of the most powerful transportation committees in town.
Metro's Transportation Policy Alternatives Committee has three openings starting in January. The committee, which is divided between transportation professionals and community members, advises the elected Metro council and other bodies on many transportation investment priorities and policies.
This year, Metro said in a news release, the agency "especially seeks applicants who can bring expertise in the following areas as they relate to transportation planning":
— Economic development, freight movement and trade
— The needs of underrepresented residents such as people of color, people with low income, people with disabilities, seniors and youth
— Health and air quality
It's vital that the people who serve on this committee understand how bicycling can play a powerful role in all of those areas.
Email This Post