Posted by Jonathan "J.R" Reed on May 19th, 2010 at 12:02 pm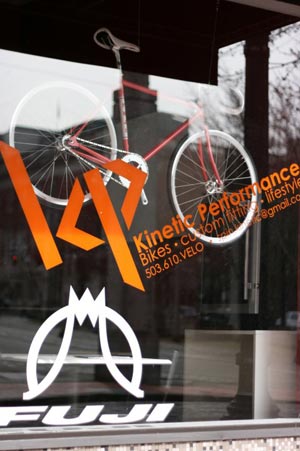 (Photo © Chris Harbert)
In what appears to be a smash-and-grab, small downtown bike shop Kinetic Performance lost a display bike and a front window early Wednesday morning. The vandal(s) made off with a white 54cm Fuji Roubaix 2.0 road bike without pedals.
Kinetic opened last March at 1127 SW Morrison Street.
This theft is the fourth such Portland bike shop break-in reported to us since February. Cascade Cycling and the eBike Store in North Portland each experienced similar style thefts. Just this week, Clever Cycles in Southeast Portland had a new computer stolen and their front window broken.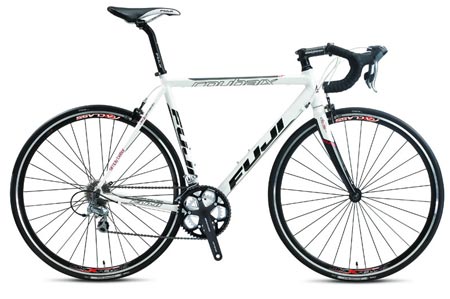 Kinetic has filed a police report, posted the missing bike in BikePortland's Stolen Bike Listings (which have been improved and updated recently by the way) and contacted other shops to assist in the search.
Shop manager Chris Harbert adds, "This bike's serial number is ICFJ9L2364 and it has had the black stem replaced with a white Fuji branded one. The bike was taken without pedals." "So if you see a white 2010 Fuji Roubaix matching this description, or a Tiagra groupset with zero use/wear that seems suspicious, a phonecall to [Kinetic Performance LLC, 503.610.VELO] or the Portland Police (503-545-3541) would be greatly appreciated!"
Email This Post
Possibly related posts