BikeCraft Vendor Directory (All time)
Since 2005, dozens of talented Portlanders have brought their handmade crafts and art to our annual BikeCraft holiday bazaar. Every year the requests pour in for contact information for specific crafters.
This listing includes all current and former BikeCraft participants who are still plying their craft.
The BikeCraft Directory is a work in progress, but should eventually give you all the information you need to contact individual craftspeople. Please send additions, corrections, and questions to info at bikeportland dot org.
---
1 by Liz
Clocks made from chainrings; cassette magnets
Liz Dickey / 1.by.liz at gmail.com

Agent Ladybug's Decycled Designs
"Decycled designs and tuff stuff" bike tube bracelets and more
Margaret Cunningham
---
Almost Monday
Original limited edition drypoint prints
Serena Van Vranken / serenalv at gmail.com
---
Anthony Baysore
Woodcut stencils of urban bike scenes.
---
Becca Bikes
T-shirts with bicycle motifs
---
Bike Cozy
For the fashionably practical rider: caps, shoelace wranglers, toe cozies, cards, and more
Rachel Dominguez-Benner / BikeCozy at gmail.com
---
Bike Farm
Silkscreened cycling caps, underwear, and bike posters from a nonprofit community bike project
---
Bike n' Chain
Crocheted hats with a bike pattern
---
bIKE pUNK
Patches, shirts, sweatshirts, stickers
bikepunkprinting at gmail.com
---
Black Star Bags
Messenger bags, backpacks, panniers
Dave Stoops / blackstarbags at yahoo dot com
---
Brian Campbell
Habitable bike trailers
---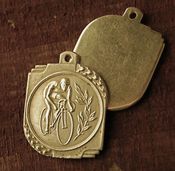 Ciclismo Design
Protection charms for cyclists
George Ramos / grwoodworking at gmail dot com
---
CityBikes
Buckets, saddles, bags, shirts, stickers, patches
Tim Calvert / tcalvert at pcez.com
---
Second Wind Chimes
Wind chimes made from worn out bike parts
Mike Cobb / antload at gmail dot com
---
CoG
Bike hats, bike related clothing, bike art
Smitty Amabilis / smitty.cog at gmail dot com
---
A Convenient Cycle
PBR fender flaps w/reflector, fenders from tires, duct tape panniers, mobile bike repair
Edwin Skaug / info at aconvenientcycle.com / 503-267-8284
---
Paul Conte
Porteur racks, fenders, bamboo bottle cages
---
Cycle Dog
Dog leashes and collars from recycled inner tubes
---
Cyclocycle
Clothes, jewelry made out of bike parts
Paul MacCammond / pmaccammond at gmail.com
---
Tiago DeJerk
Stencil art with bike themes
---
Deller Recyclist Apparel
Cycling caps
Shaun Deller
---
Megan Denton
Leather toestraps
houve at yahoo.com
---
DryHigh Rain Chaps
Wet weather cycling chaps
Ken Nelson
---
Jim Duthie
Earrings and necklaces made from unlikely bike parts
---
Ficus Prints
Screen prints based on vintage cycling photographs
Ben Parsons
---
Filmed by Bike
DVDs
Ayleen Crotty / ayleen at filmedbybike.org
---
Jacob Freepons
Handmade fenders from recycled materials
jfreepons at gmail.com
---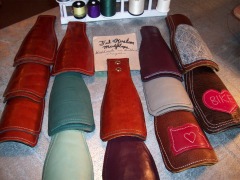 Ful-Floating, Ful-Kustom
Custom leather mudflaps
Gram Shipley / gram at shipley dot us
---
Fun Reflector
Reflective stickers, cut out into fun shapes; LED generator lights
Brian Engelen / bengelen at comcast.net
---
Julia Garretson
Jewelry from bike parts, paper, recycled materials
---
Gigi's Handy Work
Helmuffs — wooly ear covers that fit over your helmet straps
Gigi Lascurettes
---
Gracie's Wrench
Repair classes
Tori Bortman /gracieswrench at gmail.com
---

Shawn Granton
Zines, bikey cards, and other graphic bike art
tfrindustries at gmail.com
---
jDuct
Duct tap wallets and flask wraps
Jen Hecht
---
Joe Kurmaskie
Joe will be selling his books about long distance bike touring with his family, as well as locally made t-shirts and caps.
---
Labelle Maverique
Gorgeous tube bracelets, inner tube jewelry, masks and belts.
Barbi Touron / dullleadsinker at yahoo.com
---

Lapa
Silkscreened arm warmers and cycling shirts for women
Leeta Stoughton / proteanarts at comcast dot net
---
Little Package
Wool cycling caps
---
Books, zines, patches, tees
joe at microcosmpublishing.com
---
MMM Werk
Pants repurposed for wearing by bike
mary at mmmwerk.com
---
Becky Morton
T-shirts and spoke cards
becky.morton at yahoo.com
---
Ms. Starry Art
Antique letterpress cards
Debbie West / msstarryart at gmail.com
---
North st Bags
Handmade backpacks and panniers
Curtis Williams / curtis at northstbags.com
---
Oregon Velo
Wood-mounted photographs of Portland's racing action.
Shane Young / shane.young at oregonvelo dot com
---
Justa Phillips
Bike-themed jewelry and clothes
justalouise at gmail dot com
---
Portland Pedal Power
Bike based delivery services
info at portlandpedalpower.com
---
Povera Jewelry
Simple jewelry made of bike parts
poveranews at grovestream dot com
---
Queen Bee Creations
Panniers, wallets, bags, and more
---
Rebel Cricket Screen Prints
Screen printed buttons, stickers, clothing
Cory Knudson / rebelcricket at gmail.com
---
Red Bat Press
Letterpressed and hand painted cards and calendars
Carye Bye / bikebat at gmail dot com
---
Redhead Press
Books, prints, cards
Melissa Anders / huachinango5 at yahoo.com
---
Bren Reis
Hand-crafted wood furniture with bicycle motifs.
---
Rejuiced Bike Concepts
Bike trailers
Johnnie Olivan / johnnie at rejuicedbikeconcepts.com / 503.847.6200
---
Nickey Robo
Bike themed t-shirts and "Small Movements," a film about the Sprockettes
---
Ruckus Components
Carbon fiber components
Shawn Small / info at ruckuscomponents.com
---
Beer View Mirrors
Rear view mirrors made from the finest bottle caps
Ben Salzberg / ben at ridemybike dot org
---
Seamripper
Cycling caps
Jillian Sevick
---
SoupCycle
Amazing soups delivered by bicycle
Jed Lazar / jed at soupcycle.com
---
Sown Design
Bags and more
Courtney Trevino / sown.up@gmail.com
---
Sara Stout
Raincapes, seat covers, wall switchplates
---
Stumptown Printers
Bicycle themed posters printed by a worker-owned co-op
---
Sweetpea Bicycles
"S'mittens" (lobster gloves) from upcycled sweaters; woodblock prints
Natalie Ramsland / natalie at sweetpeabicycles dot com
---
TCB Racks
Foldable, stainless porteur racks
Tad Bamford
---
Upcycle 27
Silkscreened goods on upcycled materials
Rebecca James / rjnamaste03 at gmail.com
---
Urban Legend
Cycling caps
Saya Prigoff / urbanlegendthreads at yahoo.com
---
Walnut Studio
Upcycled leather lock holsters, tube protectors, seatbags
Valerie and Geoffrey Franklin / walnutstudiolo at gmail.com
---
VeloGioielli
Upcycled bicycle-themed jewelry
Brian Echerer
---
Westwind Designs
Bento bags, cycle cuffs
Kyrstin Westwind / bikeblender at gmail.com
---
Wood-Craft-Lawn
Bike culture magnets and lightswitch covers
---