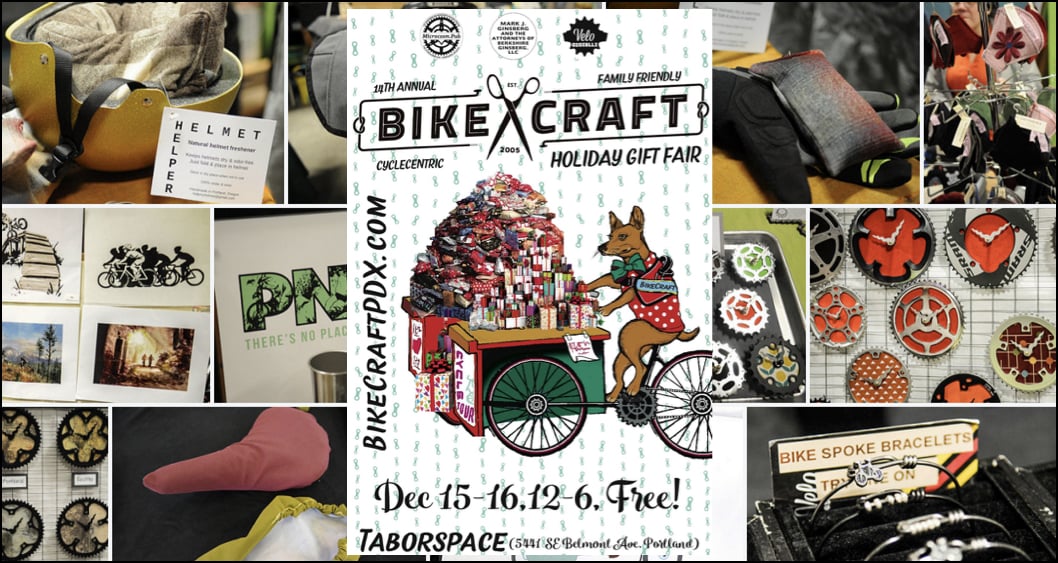 Time for another batch of BikeCraft vendor spotlights. We want to share the excitement of the upcoming event by giving you a taste of what to expect. Thanks to Elly Blue for writing these up and sharing all the images…
Maria Schur — Bicycle Kitty

Maria Schur of Bicycle Kitty brings together the best of several bicycling worlds. She leads her own on road rides, randonneuring treks, and long gravel tours, throws down with semi-organized bike fun, and can organize a mean alleycat race (and then beat you in it fair and square). And she makes useful, good-looking DIY gear that you know has been well road-tested.
What are you bringing to BikeCraft? What's the most important thing people should know about it?
The Bicycle Kitty booth will be selling handmade Bumease Messenger butt pillows. These pillows come in several sizes and are vinyl on one side and fabric on the other. They are ideal to take along on rides so you have a warm, dry place to sit instead of sitting right on the ground. Perfect for Pedalpalooza, bike tours, bikepacking, day rides, TNR and urban rides. New this year, some pillows will have reflective strips and some will have straps so they can be mounted to a bike or rack. $25 each.
Tell us about yourself—what events in your life led you to be doing this bikey craft?
When I was a bike messenger, I often found myself in odd parts of town on standby. I could get a call from my dispatcher in 5 minutes or in 50 and had to just wait around. It wasn't feasible (or affordable) to go into a cafe every time, and the main hang out in San Francisco was a place called "the wall", featuring a big cold stone wall to sit on. So, I invented the Bumease bike messenger pillow. At first, I took flack for it: "real messengers don't need pillows," but soon folks started requesting them and finally they were standard equipment for all messengers!
What's your favorite BikeCraft memory?
Dancing the "runway" at last year's opening party!
BlaqPaks – website

It's awesome to have BlaqPaks back at BikeCraft this year. An established local bag and bike accessory maker, they have a smart range of products, from artful bags made in collaboration with local artists to aftermarket rain canopies for cargo bikes.
What are you bringing to BikeCraft? What's the most important thing people should know about it?
We have a bunch of new stuff this year that you haven't seen in the past from us, including: duffles, wallets, t-shirts, and fabric trays. We are concentrating on lower-priced items so that everyone can afford something. We are also excited to bring some collaborative merchandise with local artists including McMonster, Wokeface, RxSkulls and Voxx Romana.
Tell us about yourself: What events in your life led you to be doing this bikey craft?
BlaqPaks turned 11 this year and we remain committed to serving the cycling community. The primary driving force that led to the creation of our business was to not have to work for anyone and to have an outlet for our creativity. There is almost no greater challenge than building a company from the ground up and making products that you are proud to show off.
What's your favorite BikeCraft memory?
When we did our first BikeCraft we had just moved to Portland months earlier and were having trouble making ends meet. We had a great weekend and it allowed us to continue doing what we love. Making orders during the holiday season can be stressful at our shop, so it's always nice to get out and have some in-person time with our fans at events like BikeCraft.
Filmed by Bike — website

The Filmed by Bike fest has become an iconic part of Portland's bicycle culture landscape. They've participated in BikeCraft for many years. This year they stepped up to provide a soundtrack for the weekend and will be curating music for shoppers and vendors to enjoy. Plus they'll have a popcorn machine and will be selling freshly popped PedalPop popcorn, and showing excerpts from their greatest hits of the last decade.
Founder and head FBB-ist Ayleen Crotty tells us:
"Filmed by Bike is excited to be at BikeCraft once again this year. The winter holiday season just wouldn't be the same without this awesome opportunity for the bike community to come together and buy from regional makers.

I started Filmed by Bike as a way to merge my loves of bikes, community building and artistic experiences. I love meeting filmmakers from all over the world and getting glimpses at their bike cultures. In addition to our signature film festival in Portland every May, our movie collections travel all over the world to support non-profit organizations and bring people together to celebrate their shared love of bikes.

In our earliest years, nearly all of the films we showed were from regional filmmakers. As we have expanded internationally, we have more global influence. At BikeCraft, we will have a panel of experts available to talk through filmmaking ideas with anyone who has a story to pitch. We would love to see more local film submissions this year. The deadline for entries is 1/20/2019."
Learn more about BikeCraft at the official website.
— Elly Blue/Microcosm Publishing
Never miss a story. Sign-up for the daily BP Headlines email.
BikePortland needs your support.