The Bicycle Transportation Alliance's popular and friendly competition among Oregon and Southwest Washington workplaces is shifting to springtime and making some big changes.
It's now called the "Bike More Challenge" and it starts next month instead of in September.
Other big changes for 2016: The BTA now invites participants to log all bike trips, not just work commutes; the entire contest runs on a new software platform, and you can get extra points for encouraging someone else to sign up.
"You can log your ride to the grocery store, your recreational ride, whatever," BTA spokeswoman Sarah Newsum said Thursday. "Sometimes the bike commute is a big leap for some people, having to show up for work after biking."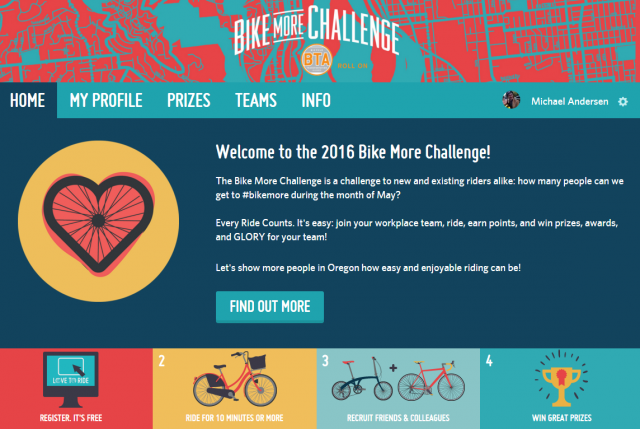 The new website at BikeMoreChallenge.com.
Moving to May also puts the newly renamed Bike More Challenge in line with National Bike Month, which in many cities includes an organized Bike to Work Week.
The change comes after 10 years of the BTA's Bike Commute Challenge. Largely funded by regional government Metro, the annual Challenge is one of the most visible events of the year for the Portland-based statewide advocacy group. But it's seen the number of participants slip 11 percent since 2011.
The new system, which scraps the BTA's custom-built software in favor of a package provided by the New Zealand-based website LoveToRide.net, will make it much easier to log trips. If you already log bike trips with any of four apps — Strava, Moves, MapMyRide, and Endomondo — you can register your account with the site and they'll be automatically entered into the database. (Unfortunately, the Portland-based Ride Report and RideWithGPS apps aren't supported yet.)
Instead of ranking local workplaces by percentage of commutes, workplaces will be scored with an entirely new point system customized by the BTA:
"You actually get a lot of points for encouraging new riders to join," Newsum observed. "If I join and I'm like "Michael Andersen told me to join" — it prompts me to put your name in — you actually get points."
That seems appropriate for a challenge intended to introduce more people to the basics of bike transportation. (I say this every year: the commute challenge is what got me to make the jump to bike commuting, back in 2011.)
Workplaces will continue to be broken out by size category: 500+ staff, 200-499 staff, 50-199 staff, 20-49 staff, 7-19 staff, and 3-6 staff.
The minimum organization size is now three people — though as always, individuals will be able to log trips even if their workplaces don't have a team. And this year you'll be able to log trips even if you don't commute.
May in Portland tends to be rainier than September — the average May has 14 days with some rain, compared to seven days in the average September — but it also signifies the start of warm-weather season rather than the end of it.
"It's nice to get people in the habit of biking going into the nicer weather," Newsom said. "It'll hopefully sort of solidify that habit a little bit more."
— Michael Andersen, (503) 333-7824 – michael@bikeportland.org
BikePortland can't survive without subscribers. It's just $10 per month and you can sign up in a few minutes.