NBA legend Bill Walton during a ride the Columbia River Gorge earlier this month.
(All photos courtesy Jeff Bernards)
Bill Walton loves bikes. From his college days riding to class at UCLA to his daily ride through Northwest Portland to practice at the Rose Garden Memorial Coliseum, bicycling has always been a part of Walton's life. So, when the nearly seven-foot tall, Hall of Fame basketball legend and member of the Portland Trail Blazers 1977 NBA Championship team visited Portland for a speaking gig earlier this month, he used the trip as a perfect excuse to put in some miles on the open road.

"He can hardly walk, but can ride like crazy."
— Jeff Bernards, after a long ride in the Gorge with Bill Walton
After getting in touch with Walton through the Blazers organization, I put him in touch with my friend and bike ride planning expert Jeff Bernards. Jeff is not only an experienced, long-distance ride leader (he currently works with Portland Bicycle Tours), he's also the biggest Blazers fan I know. Jeff showed Bill some of the best rides in our region and shared photos and thoughts about the experience…
---
I suggested he ride to Multnomah Falls and back. I said that's about 60 miles, he said he needed a 100 miles. I'm thinking you've had nearly 40 knew surgeries… 100 miles?!! OK.
I didn't know a lot of the details regarding Bill Walton's basketball career, so I checked out Wikipedia. He has accomplished so much I was a little stunned, he's so humble and unassuming — except that he's 6′ 11″.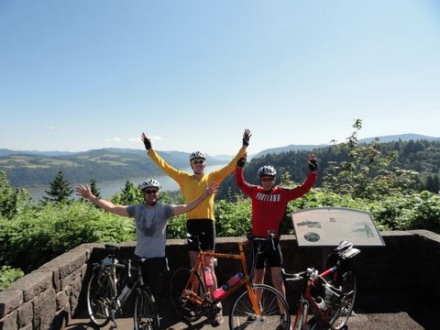 We road to Cascade Locks and grabbed a bite at the local grocery store. He needed to sit and the only nearby seat was a flat bed trailer parked on the street. The owners were so excited to be able to offer Bill a seat. They talked and talked about how Bill was the reason the Blazers won the finals in '77. We walked over Bridge of the Gods then headed 4 or 5 miles east of Skamania.
I said we wouldn't ride back as hard as we rode out. I was so wrong, he powered it back too. He finally pulled away from me at Washougal.
After our adventure in Gorge, Bill was just getting warmed up. He still wanted to ride out to the coast (by himself, with his wife driving a sag vehicle). I put together a route for him to Astoria, via the Banks-Vernonia Trail and Hwy 202 and then the Lewis & Clark Rd. to Seaside and Hwy 101 to Cannon Beach. He called me when he got to Cannon Beach. He did the whole ride in 10 hours! (I swear when we did the Gorge ride he was riding 15 to 18 mph, constantly. I could get him on the hills because he didn't have the clipless pedals (they don't have them in his size)).
He called me from his Portland hotel and gave a big "WOW!" over and over. He thought it was an amazing adventure.
This guy really loves to ride, and his energy and enthusiasm for biking — and for life — are infectious. Here's an interesting video he did in 1974, when he was injured and his ever-positive attitude just shines through. He's had 37 surgeries; and the last one saved his life. He use to have to eat laying on his stomach because of the pain.
So if you hear people say they can't ride, because of a little pain, let them read about Bill Walton's recovery and how cycling saved his life. His life and living story should be an inspiration to all of us.
Walton and Jeff Bernards.