Posted by Jonathan Maus (Publisher/Editor) on January 6th, 2011 at 1:05 pm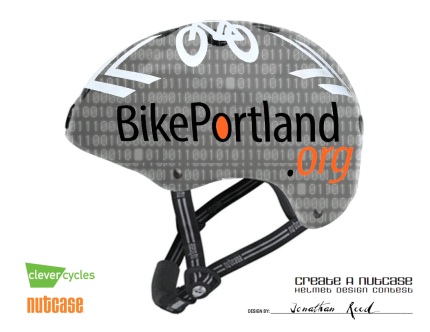 A bit of sharrow-flower mixed with binary… What do you think?! Thanks to BikePortland Sales/Business Manager Jonathan "JR" Reed for the design.

As part of our ongoing partnership with 94.7 FM, we've teamed up with Clever Cycles and Nutcase (two excellent, Portland-based businesses) for a helmet design contest!
The idea is simple: Who can come up with the most fun, attractive, and ingenious helmet design?
"The Combover" design by
Julian Davies/
Totcycle
The winner will get a $500 Clever Cycles gift card and everyone who drops off a design entry at their shop at SE 9th and Hawthorne will get a $5 gift certificate (yes, you read that right). As our friends at Clever Cycles say, "Go nuts; any design can win… no subject is off-limits (as long as it's family friendly). Just let it happen." On that note, see the amazing and memorable designs already submitted over on the Totcycle blog.
To play, just download the entry form (PDF) and create your design. Print it out and drop it off at the shop before January 22nd. You can also email your design to info@clevercycles.com. Then, whether you've entered or not, everyone is invited to the Winter Cycle Party at Clever Cycles from 3-6pm on Saturday, January 22nd where we'll toast all the entries and pick a lucky winner.
See the contest details here and good luck!
(Special thanks to Nutcase and Clever Cycles for their support of BikePortland. Their advertising partnerships allow us to continue to bring you all of this daily news and other content.)