Posted by Michael Andersen (News Editor) on August 28th, 2013 at 4:46 pm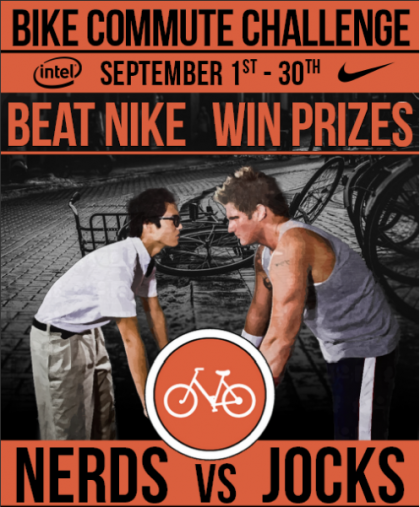 Fall is coming, and in Oregon, unlike in the many places that foolishly declare May to be their official bike month, that means it's time for the annual Bike Commute Challenge.
A major annual project of the Bicycle Transportation Alliance, it's grown into one of the most popular and successful bike-to-work challenges anywhere, spawning fun rivalries like the Intel-vs-Nike matchup highlighted at right. (More on that in a moment.) In the last two years, the friendly workplace-to-workplace competition has attracted 12,000 Oregonians on about 1,400 teams logging their trips by both frequency and distance.
"Per-capita participation in our program is bigger than in any other program I'm aware of," BTA Deputy Director Steph Noll said Wednesday.
This year, Noll's team is making it easier for blue-collar workers to participate by offering cards with radio-frequency chips in selected workplaces.
"They'll be able to enter a commute just by scanning a card as opposed to logging on to a computer," Noll said. "That'll make the whole thing more accessible if you're not in a computer-based workplace."
They've also hired coordinator Aaron Brown, a Washington County native, and looped in community outreach coordinator Elizabeth Quiroz, a Spanish speaker, to power up involvement at more suburban and East Portland employers.
Brown described the challenge as "the gamification of bike commuting," an excuse for bike-curious workers to learn their commutes and for regular bike commuters to get support from their managers.
Email This Post