Posted by Jonathan Maus (Publisher/Editor) on June 18th, 2015 at 1:58 pm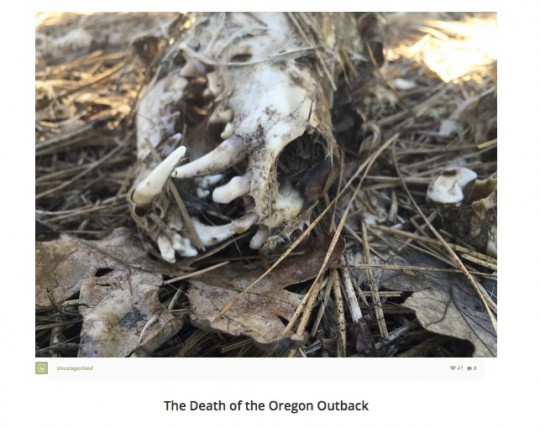 Despite all the buzz floating around the web right now, the Oregon Outback is not dead.

Yes, I'm well aware that Donnie Kolb, the man who first mapped out what has become one of the most famous bikepacking routes in America, proclaimed its death yesterday; but I think some folks are getting the wrong idea.
Yes, among the large gathering of folks (myself included) who did the route last month, there were inexcusable actions by a few rude and inconsiderate people. According to Donnie, they left garbage and human waste in a public park and even on someone's private land — land that was generously loaned to them to sleep on no less!
That horrible behavior has ticked off some locals who live along the route. In one case, a small town (Silver Lake) has reportedly just passed an anti-camping ordinance in their park specifically because of how it was treated by people who were riding the Outback route.
However, despite these unfortunate developments, you can't kill something that doesn't exist.
The Oregon Outback was never an event to begin with — at least not in the typical sense of the word. At its core, the Outback is just a route (which is 100% on public lands, for what it's worth) and a geographic place. It has never been a sanctioned "event" and definitely not a "race" even though it's often mistakenly referred to as such.
I am just as disappointed in the people who made poor choices along the route as anyone else is; but let's not forget that the Oregon Outback is alive and well. It's still there for everyone to ride and enjoy — just please do us all a favor and leave no trace next time you roll through.