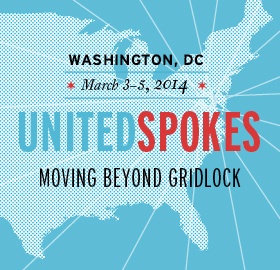 Time to unite some spokes in D.C.
It's that time of year when advocates from around the country make plans to attend the annual National Bike Summit, hosted by the League of American Bicyclists in Washington D.C.. And in a fortunate twist of timing, the same week the League released the agenda, I also read a big announcement from Capitol Hill: "Committee Hearing to Launch Surface Transportation Reauthorization Process."
The first hearings on the next transportation bill (not to mention a new face atop the U.S. Department of Transportation) should add a welcome dose of urgency to the Summit. The current transportation bill (MAP-21) is set to expire at the end of September.
While strategies for the new bill will be the topic of hallway conversations, much of the action at this year's event will be in the breakout sessions and keynote speeches. Each year the League comes out with a theme that tries to capture the current state of the national bike movement. This year it's "United Spokes: Moving Beyond Gridlock." The summit is designed for bike advocacy professionals; but lots of other folks show up. There are always a bunch of government staffers, journalists, planners, engineers, event promoters, industry bigwigs, and so on.
You never know who you might run into… Like that one time in 2008 when I got to ride to work with Congressman Earl Blumenauer…
This year's agenda includes: equity and "rethinking strategies for how we communicate with communities of color"; how to handle a media (and public) backlash; analysis of the latest research into the perceptions of bicycling; inspiring tales of advocacy "wins"; how to win business allies; effective political lobbying techniques, and more. Check out the agenda below in the League's nifty infographic…
And here's just a sampling of the many breakout sessions that will be offered (check the entire agenda here):
Overcoming the Scofflaw Perception
Learn how effective education programs, targeting both cyclists and drivers, can teach people how to ride/drive safely together AND prevent scofflaw cycling behavior from standing in the way of progress.

Who is the Urban Cyclist?
The authors of "The Metro Urban Cyclist: The Key to Future Transportation Growth" found significant differences between adult cyclists living within the zip code boundaries of the largest 12 American cities and the typical adult cyclist overall. A panel of leaders reacts to the report.

Leveraging National Health Goals
Both the Healthy People 2020 plan, spearheaded by Sec. Sebelius and the National Prevention Strategy, spearheaded by Surgeon General Benjamin, set goals for active transportation. What are they and how can the bicycling and health communities work together at the local and federal level to reach these goals?

Business People make the Best Messengers
More and more Fortune 500 companies are encouraging bicycling in their communities and in their companies. Hear from business representatives as to how and why their companies are promoting bicycling, their innovative ideas to get more employees on bikes, and how bicycling is improving their bottom line.

If Local Control is good, would Devolution be better?
Hear from leading transportation advocates on the federal stage as they discuss what devolution of federal transportation funds to the local level could mean for biking and walking.

The Role of Enforcement in a Vision Zero Strategy
Law enforcement isn't always a bicyclist's best friend and justice for bicyclists and pedestrians hit by cars is rarely served. Hear from lawyers and advocates who have changed the law and worked with enforcement agencies to ensure proper legal protection for cyclists.
And sprinkled throughout the three-day summit are keynotes speakers and panels from leading thinkers, leaders, and politicians.
Also in 2014, the League will also host the Women's Bicycling Forum the day before the Summit.
It should be a great event and I plan to attend and report back with stories and photos about all the important stuff that happens. The Summit is open to everyone and registration is open now. The dates are March 3-5. Learn more at BikeLeague.org.
If you have questions or feedback about this site or my work, feel free to contact me at @jonathan_maus on Twitter, via email at maus.jonathan@gmail.com, or phone/text at 503-706-8804. Also, if you read and appreciate this site, please become a supporter.