Posted by Michael Andersen (Contributor) on August 1st, 2013 at 9:08 am
Walking on SE Powell Blvd is set to get easier thanks to funding recently approved by the Oregon Legislature.
(Photos © J. Maus/BikePortland)
State Rep. Shemia Fagan has put state money where her mouth is when it comes to east Portland.
In a significant show of state support for safety and walkability on Powell Boulevard in East Portland, Oregon's legislature has voted to devote $4.9 million to sidewalks, crosswalks, and wider bike lanes on Southeast Powell Boulevard between 111th and 174th avenues.
It's the work of State Rep. Shemia Fagan, who back in June memorably described her constituents' infrastructure needs as "sidewalks, sidewalks, sidewalks." After the death this spring of five-year-old East Portlander Morgan Cook, Fagan promised to pursue funding to improve safety on nearby streets.
She's about to get it. The money will be awarded to the Oregon Department of Transportation in the annual "Christmas Tree" bill approved by both legislative houses and currently awaits an expected signature from Gov. John Kitzhaber. It's part of the same passage that will, with additional funding from the City of Portland, put sidewalks and crosswalks on Southeast 136th Avenue by next fall.
The Powell improvements will be a down payment on the Outer Powell Boulevard Design Plan, approved by Portland City Council last year, which aims to eventually add 12-foot sidewalks, a center median and 8-foot buffered bike lanes to the state highway from Interstate 204 to the city limits at 174th.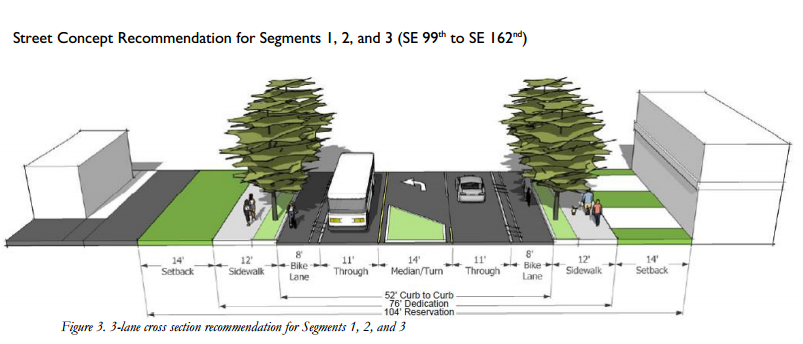 Here's what the corridor looks like now, for example at 150th Avenue:
"This money allows ODOT to begin planning actual projects," Fagan's legislative aide Eric Franz wrote in an email. "The timeline will be a little longer than 136th, but it's real money going to a real project, not just planning."
It's heartening to see this money start to improve the scene on a highway that's sometimes used as a cautionary example of the sort of road Portland doesn't want any more of.
How much money is $4.9 million? Well, for context, it's:
Update 1 p.m.: ODOT spokeswoman Shelli Romero writes with some more details on what exactly this will pay for: "The funding will be applied toward project development which means public involvement, alternatives analysis and environmental work. The corridor is complex and the amount secured is not the full amount needed to get us to full design and to the point where the project would be 'construction-ready.' ODOT estimates that it will likely take about $10m to design the entire Outer Powell corridor from I-205 East to SE 176th so that it will be construction ready. The $4.9m gets us started, but it does not get it finished."
Michael Andersen was news editor of BikePortland.org from 2013 to 2016 and still pops up occasionally.