Posted by Jonathan Maus (Publisher/Editor) on April 4th, 2013 at 11:16 am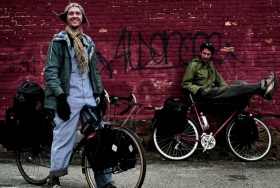 The Hussin brothers and their vehicles.
(Photo: Hussin brothers)
Two brothers who took a two-year, cross-country, roadkill-fueled bicycle journey while exploring "radical homesteading," and "guerilla camping" will screen some of their films at Velo Cult tonight. Noah Hussin and his brother Tim documented the entire trip and are working on a film project titled America Recycled.
With partial funding from National Geographic, the brothers sought out how people were living off the land and spent time with communities far off the grid. Noah and Tim grew up in suburban Florida where they became, "Disillusioned by many of our inherited cultural values." Their trip was an attempt to discover a different way of living. Here's more from their USA Projects crowdfunding site:
"Rather than focusing on the nuts and bolts of building new infrastructure and restructuring cultural relationships, our work explores the social, spiritual, and psychological effects of scaling down, re-localizing, and connecting to community and land."
Noah currently lives in Portland was featured in the Willamette Week yesterday. When asked what it was like riding bikes through the South, Noah said:
Being two white American brothers on bicycles, we felt completely immune to police or anybody. That was the most endearing thing to everybody. We could have been trafficking cocaine and nobody would have caught us. Especially in the South, there are all these good ol' boys, cops, and they'd be like, "What y'all doing?" It's like, "Oh, we're riding across the country." "Riding across the country? Wow, wow, I love adventure, I always wanted to do something like that. How long y'all been on the road?"
Check out their teaser video below:

Trailer from America reCycled on Vimeo.
The Hussin brothers are now working to raise $12,000 to make their feature length film a reality. Much of their photography (Tim is a professional who has done work for National Geographic), videos, and other content from their trip is available for free at AmericaRecycled.org.
Meet Noah, learn more about this amazing trip, and see some of his film clips at a free event at Velo Cult (1969 NE 42nd) tonight starting at 8:00 pm.
Jonathan Maus is BikePortland's editor, publisher and founder. Contact him at @jonathan_maus on Twitter, via email at maus.jonathan@gmail.com, or phone/text at 503-706-8804. Also, if you read and appreciate this site, please become a supporter.