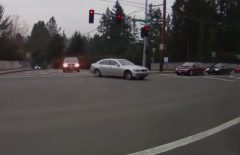 Still from helmet cam footage of light
at Laurelwood and Scholls Ferry.
(Photo: Seth Alford)
Reader Seth Alford has been taking a lot of helmet cam video lately (his video of a TriMet bus rudely squeezing him out of a bike lane in Hillsdale garnered some attention). About a month ago, he waited over two minutes at the intersection of SW Laurelwood/Schools Ferry/Nicol (map) before his left turn light went green; and it likely triggered only after a car pulled up behind him.
Curious, Alford went onto the Washington County website to find information about bicycle detection at traffic signals. The County has a page that addresses the issue, and surprisingly, it includes the following official advice* (See update below — they've edited the site):
Graphic from Washington
Co. website.
"If you cannot trigger the light, and you have waited an appropriate amount of time, treat the traffic light as an uncontrolled intersection and proceed when it is safe to do so."
I'm not aware of any statute in Oregon law that would back up this advice. It also begs the question, what exactly is the "appropriate amount of time"? And, would a cop or a traffic court judge really be willing to overturn a red light citation on these grounds? I doubt it.
In Lake Oswego recently, Maggie Rising was waiting for a light on Boones Ferry Road at 5:45 am. When it wouldn't change, she rolled through — and was given a $230 ticket. Here's how her experience went in traffic court:
"When I explained to the judge that I commute to work and that the light is only triggered by cars, he asked me, "so, you're saying that, as long as I commute to work on my bike I have a right to run every red light between my house and work?!"
I called Washington County's traffic engineering division this morning. The woman on the phone was just as surprised as I was to see that text on their website. She didn't have a clear answer to my questions, but said she'd get back to me in week or so. I'll keep you posted.*
If you're curious about bicycle detection at traffic signals, read our Bike Science column on the topic from back in September.
*UPDATE, 3/15: It looks like Washington County has edited their website. It no longer advocates rolling through if signal fails to change. Here's the new text:
"If you cannot trigger the light, either move forward to leave room for a car to place itself over the loop, or go to the sidewalk and press the pedestrian push-button (unless you are turning left). You can also lean your bicycle over to the loop so more metal is closer to the wires."
Jonathan Maus is BikePortland's editor, publisher and founder. Contact him at @jonathan_maus on Twitter, via email at maus.jonathan@gmail.com, or phone/text at 503-706-8804. Also, if you read and appreciate this site, Jonathan hopes you'll become a supporter.