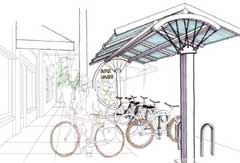 In January 2006 the City of Portland will begin installation of 4 "bike oases" structures on Hawthorne Blvd (see photo). The oases are being designed by Rick Browning of Browning Shono Architects and will likely be placed at SE Elliott, SE 36th, Ave, SE 38th Ave, and SE 48th Aves on Hawthorne Blvd.
According to the manager of the project:
"Each Bike Oasis will have space for ten bikes. In the information panel, PDOT plans to install bike maps and information on the side facing the bike racks, and walking maps and information on the side facing the sidewalk. "
These exciting new bicycle facilities are part of the Hawthorne Boulevard Project which seeks "to create a public environment and transportation system that supports Hawthorne's role as a vital neighborhood main street".