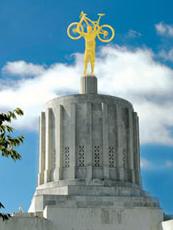 Time to rise up, Oregon cyclists!
Next week's Oregon Bike Summit (4/21-4/22) in Salem could be the most important advocacy event of the year.
In previous years, the summit has been held in Eugene, Sisters, and Portland, but this year organizers are taking the bike movement straight to the lawmakers and pursestring holders in Salem.
The man behind the summit, Jerry Norquist, is the ride director of Cycle Oregon, Chair of the Oregon Bicycle and Pedestrian Advisory Committee, and one of the state's pre-eminent bike advocates. He's decided to model the event on the National Bike Summit, held each year in Washington D.C..
advertisement
When I spoke with Norquist yesterday, he said how important it was to make our presence known; "We have to convince people," he said, "that the only way to get things done is to show up and get your voice heard."
Norquist, along with other summit organizers including staff and volunteers from Cycle Oregon and the Bicycle Transportation Alliance, have put together an impressive agenda that will ensure our state's legislators hear loud and clear that there is a massive amount of energy and support for making Oregon, "The land bicycles dream about".
The event is slated for two full days and will be kicked off by the Mayor of Salem (and Alice B. Toeclips award winner) Janet Taylor. New this year is a focus on lobbying and education on how the legislative process works.
The BTA has lined up meetings with nearly every Oregon legislator, so no matter what part of the state you show up from, you'll have the opportunity to meet face-to-face with your representative to tell them how much you care about biking.
Other highlights include;
Sen. Dingfelder will join us
for a ride on Wednesday morning.
(Photo © J. Maus)
the unveiling of the new website created to promote bike tourism in Oregon (I've been following its development, prepared to be blown away),
a bike ride with legislators (Senators Floyd Prozanski, Jackie Dingfelder, Jason Atkinson, and House rep Tobias Read and others will attend),
a talk about the history of cycling in Oregon by historian (and BikePortland contributor) Eric Lundgren.
Imagine, bike advocates from all over the state, flooding the Capitol with information and inspiration about how bikes can impact our state in a positive way on issues like health, the economy, sustainable transportation, and more.
I'll be there to bring you all the action (like I've done every year the event has been held), but if you want to help us make history, you should make plans to be there yourself!
Learn more at OregonBikeSummit.com.