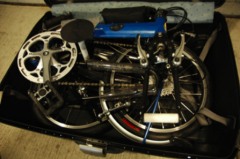 Folding bikes, like this Bike Friday Tikit,
fit easily into standard-sized luggage.
(Photo © J. Maus)
A staffer at Oregon's largest bicycle advocacy organization wants budget airline JetBlue to change their baggage policy.
In a story published on the BTA blog yesterday, Carl Larson described what happened when he tried to check a box for his flight from JFK to Portland:
"What's in the box?" asks the lady at the counter.

"A folding bike, some clothes, and some cheese." I say.

"That's $50." she says, blankly.

Obviously, the conversation didn't end there but eventually, despite threats of unchecking it and rechecking it again as a "metal sculpture," "velocipede," or "personal mobility device", I pulled out my credit card, paid the fee, and started making some phone calls…"
Larson said so far, his calls (and now emails) haven't gone anywhere. He's also doing some research. He has found that both Delta and American Airlines allow small bicycles to fly for free in lieu of one piece of baggage.
In a comment to his story on the BTA blog, Larson wrote that he has contacted the League of American Bicyclists ("for what it's worth") and he also shared an email exchange he had with JetBlue. Larson asked them what his $50 was paying for "considering it (his box) was lighter and smaller than their limit and wasn't dangerous, oddly shaped, or in need of any special handling."
Here was their response:
"…your bicycle fell under the guidelines for sporting equipment…We can understand it was small and lighter than many carry-on baggage but nevertheless, it was a bicycle. We are sure you would want it protected and in a padded box as we are not liability for damage to items such as this per the contract of carriage."
Larson says he wasn't concerned, nor did he inquire about, damages and packaging. He just wanted to bring his bike home. We'll let you know how this ends up.