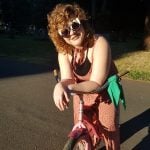 by Maritza Arango (Events Editor) on September 15th, 2021 at 10:45 pm
"Youth activists have been staging rallies and protests at the ODOT building downtown for weeks. Let's give them the support they deserve. Come support our Youth in their fight against ODOT's status quo ways. Let's help our future thrive by preventing freeway expansion and the continuation of car culture.
We will ride from Sunnyside School Park to the ODOT building (123 NW Flanders St) to show our support. Come one, come all. Tell your friends, families and neighbors. Let's make our voices heard.
Enough is enough!
End location: The ride will end at the Youth vs ODOT rally to demand climate justice (123 NW Flanders St)"