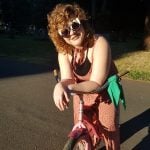 by Maritza Arango (Events Editor) on September 30th, 2021 at 1:00 am
Whether it's blocked bike lanes and sidewalks or broken/missing flex posts, pdxreporter has a category for you to file a complaint about it. But not all categories work the same way, and how do you know if someone else already reported it? What is the best way to get a problem to a person who can solve it? We'll have an online workshop next week for all of these questions & your questions too.
Please RSVP, include any questions we should cover, and maybe get yourself some pictures of specific locations or problems that you would like to address.