Events for January 28, 2017
Day Navigation
9:00 am
We lead women-only rides from River City Bicycles in Portland every Saturday. These rides are geared to (no pun intended) the intermediate rider. If you are brand new to cycling, the pace and ride length will probably exceed your limits. You can always come try us out with the option of turning back if need be. Read More »
Find out more »
10:00 am
The Portland Aerial Tram is hosting a special Community and Family Day to celebrate ten years of service. We'll have activities for the kids, historical displays, presentations on the construction of the Tram and the future of South Waterfront, samples from local restaurants and more. We'll also have guided walks, expert talks and special Tram Read More »
Find out more »

Please join Senator Lew Frederick, Representative Tawna Sanchez, and House Speaker Tina Kotek for a town hall meeting previewing the 2017 Legislative Session. They are looking forward to hearing your questions and learning about your priorities.
Find out more »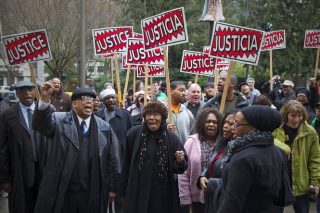 "Advancing Justice and Equality for All THrough the Strength to Love," sponored by the Albina Ministerial Alliance Coalition for Justice and Police Reform. 10 a.m.-- Assembly at Martin Luther King Statue 10:30 a.m. SHARP -- March begins (it's permitted) 11:45 a.m. -- Rally at Maranatha Church, 4222 NE 12th at Skidmore (tabling and hot food). Read More »
Find out more »
11:00 am
Join us for a kid-friendly, 6-mile ride starting at the Portland Opera, going down the Springwater, over the Sellwood Bridge, and up the Willamette River Greenway. It starts and ends at Biketown stations, providing an alternative to a personal bike.
Find out more »
+ Export Events