Wind Chime Ride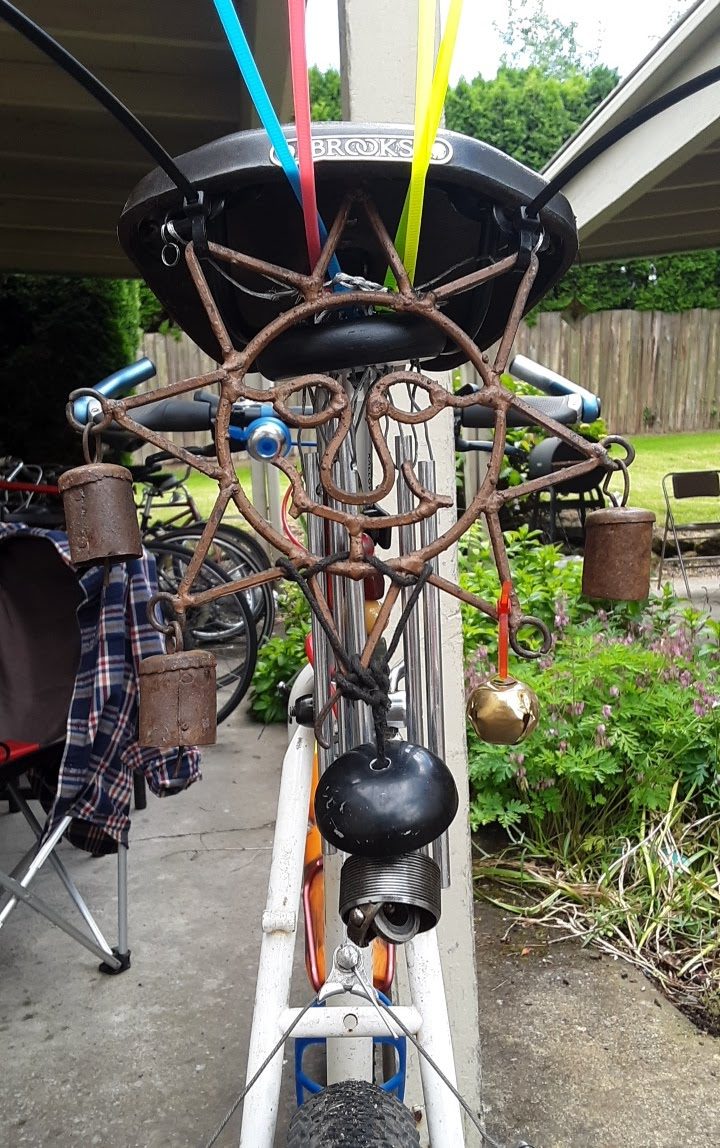 "There will be a bike with a wind chime on it locked to the "SHARED ROADWAY" "PATH ENDS" signpost. follow the gravel path to find your ride leaders on the beach
You might ask, "How do I put a wind chime on my bike?" There a few ways that work pretty well: saddle rails, the corners of a front platform rack or basket, or the ends of handlebars. It can be done from a rear rack or trailer as well, though this will require some planning and attention to detail on your part. Don't wait till the last minute! The strings that hold most wind chimes together are not very strong and generally not intended for the forces that a bicycle will put them through. I've found that replacing those strings with picture wire will extend the life of your bike chime substantially.
Other items that play with the wind or movement of your bicycle – pinwheels, wind socks, whirligigs, jingle bells, etc – are also encouraged. If you are bringing a speaker bike, please only play recordings of wind chimes. No music; we want to hear our chimes!
Ride will be ~10 miles, and showcase a variety of paved riding environments: neighborhood streets, city streets, bike paths, and a bridge or two. There will no unpaved/off road segments. Pace will vary depending on conditions and who turns out for the ride. There will be a designated "sweep" leader to prevent people from being dropped, and there are a number of brief built-in stopping points to help keep the group together.
Ride is not a loop and the end spot is a ~M~Y~S~T~E~R~Y~, but we aren't doing anything too zany. The final stretch of the ride will be a physically challenging hill climb. I would expect the vast majority of riders to successfully finish with us, but if you or your bike absolutely can't/won't do hills, then it may not be for you. I would encourage you to at least try it with us, but I wouldn't begrudge you peeling off if it isn't feeling right.
There will be no store stops. Please bring everything you need: a bike, at least 1 wind chime, water, snacks, and lights for the ride home. I strongly encourage you to eat dinner before joining us.
Ride will start on time. Please plan to arrive at start spot at 6:00pm. You don't have to walk down the beach, but it is a cool little place that I didn't know about before planning this ride. Please note that the path to the beach isn't bike-friendly and is a little challenging on foot. I will be leaving my bicycle, wind chimes and all, at the start of this path."
Related Events