We demand safe streets – A call to action
August 26, 2016 at 4:00 pm

-

6:00 pm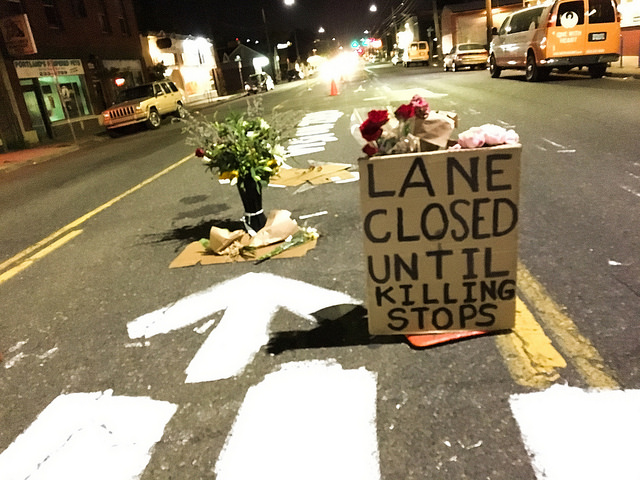 On Friday, 8/19, a teenage girl was crossing SE Hawthorne at 43rd when she was struck and killed by a reckless driver. This is another senseless and completely preventable death here on our streets. Our city doesn't seem to have any plan other than talk of "Goal Zero" Let's challenge them to do better, lets create ways as a community in which we can make our own roads safe for us once again.
Mostly, lets be together and ride in solidarity as we mourn yet another tragic lost.
This will be a slow, family friendly ride. We will leave the fountain at roughly 4:30, ride to city hall and make a few laps there. This should allow for those who want to join up but can't meet at the fountain. After we leave city hall, we will ride over the Hawthorne bridge and all the way up Hawthorne to 43rd where we will stop for 10-20 minutes of time for those who wish to leave flowers, notes, and mourn. We will be taking over both directions of traffic at this location.
Once finshed we will make a small loop, cross the crosswalk on Hawthorne between Pepinos and Fred Meyer and will end at the upper parking lot of Fred Meyers. From there, we will ride to Colonel Summers Park for mutual sharing and consoling.
We can make our voices heard by showing up in mass. let's not be silent anymore.
Please bring as many flowers as you can, we would like to create a floral cross walk, for at least while we are there.
General Rules:
* Stay to right of the center line on Hawthorne
* Be safe, watch for others' safety, too
* Let's hold any music until after we leave the memorial site
Jonathan Maus is BikePortland's editor, publisher and founder. Contact him at @jonathan_maus on Twitter, via email at maus.jonathan@gmail.com, or phone/text at 503-706-8804. Also, if you read and appreciate this site, please become a supporter.