Rally to Save the Bike Lanes on SE Powell & 26th!
February 20, 2018 at 5:30 pm

-

6:30 pm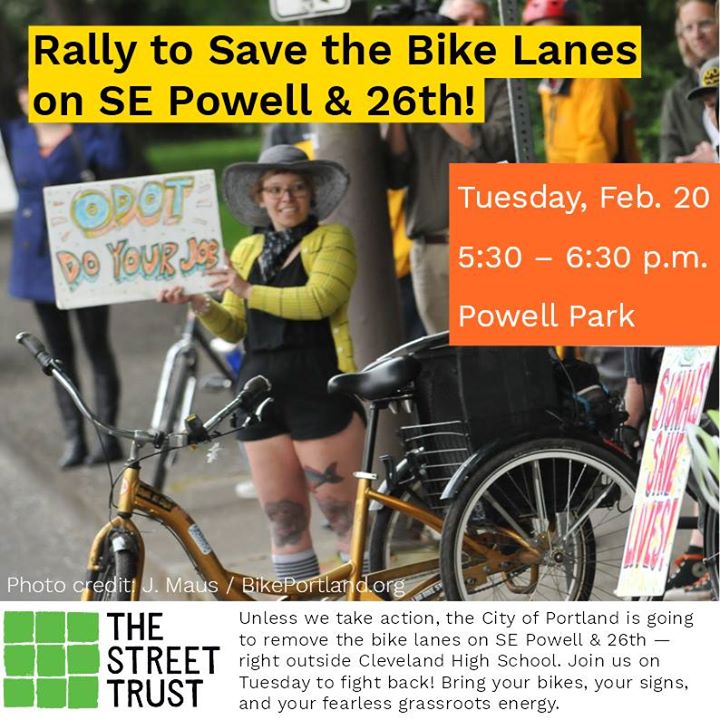 Unless we take action, the City of Portland is going to remove the bike lanes on 26th Avenue at Powell Boulevard — a critical piece of bike safety infrastructure located directly outside Cleveland High School. We must do everything we can to prevent that.
Join us on Tuesday, February 20 for a rally to save the bike lanes on SE 26th! We'll get together at Powell Park at 5:30 p.m. to make our voices heard and make clear that removing those bike lanes will be met with fierce opposition. Bring your bikes, your signs, and your fearless grassroots energy.
Less than two weeks ago, The Street Trust launched a petition calling on city leaders to take action to prevent the bike lanes' removal. More than a thousand of our neighbors have joined our effort so far, but our fight isn't over: Now it's up to us to make clear that making our streets less safe is not a valid option.
With your support, we can save these bike lanes. We can send the message to the Oregon Department of Transportation that Portland's communities demand real solutions to dangerous driving and will fight back against attempts to backpedal on street safety.
Photo credit: Jonathan Maus / BikePortland.org via Flickr