Cycling for Sustainable Cities Webinar
June 3 at 12:00 pm

-

1:30 pm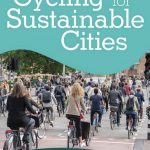 Cycling is the most sustainable means of urban travel, practical for most short- and medium-distance trips—commuting to and from work and school, shopping, visiting friends—as well as for recreation and exercise.
Cycling promotes physical, social, and mental health, helps reduce car use, enhances mobility and independence, and is economical for both public and personal budgets.
In this webinar, John Pucher, Ph.D., Professor Emeritus of Urban Planning and Policy Development at Rutgers University and Ralph Buehler, Ph.D, Professor and Chair of Urban Affairs and Planning at Virginia Tech, explore how cities can make cycling safe, practical, and convenient for all ages and abilities.