Chingonas Ride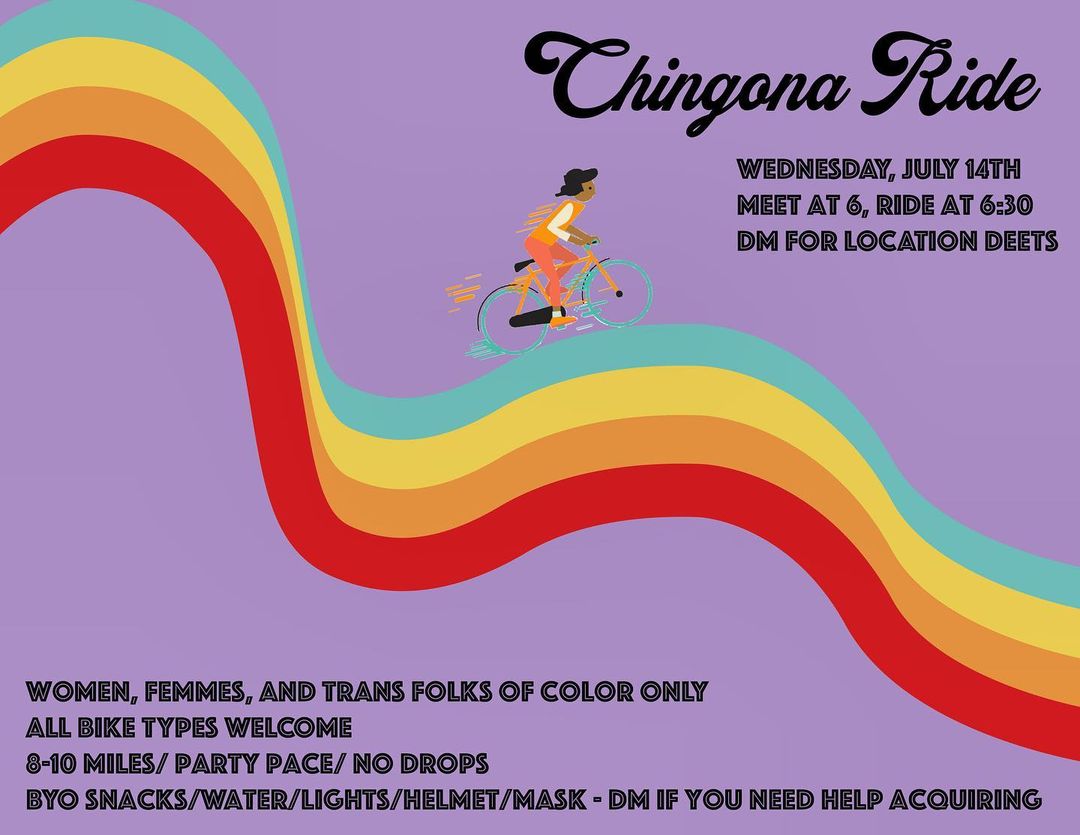 "Calling all Chingonas!🌞🌈
Please join us for our upcoming Chingonas Ride Wednesday 7/14.
Meet at 6:00 PM
Rollout at 6:30 PM
**DM us for location details!**
This is a chill 8-10mile/ party pace/ no-drop ride for women/femmes/non-binary/trans folks of color only!
Required: a mask, helmet, lights (front and rear) – DM if you need help acquiring any of these
Highly recommended: water, snacks, bright/reflective clothing
Please note that we want this ride to feel accessible for folx, and we accept all sorts of bikes including, but not limited to, road bikes, ebikes, and gravel bikes. If you have any questions please let us know.
Also please be mindful that this is a self-supported group ride, meaning you'll want to provide your own accommodations to make the ride as comfortable for you as you'd like 🙂
Again, this ride is meant for women/femmes/non-binary/trans folks of color. Although we are still in the beginning process of creating this community, our goal is to carve out a safer space that centers POC feminine energy on bikes.
We are not here to police identities and will call out any machismo/ anti-LGBTQ+ behavior witnessed on our rides.
As we continue to build community, we invite your feedback via DM (questions, comments, concerns) as we firmly believe that this space is created together, and together we will continue to learn how to best support our community. Our DMs are always open 🙏🏼
-Your fellow Chingonas Arely, Ashley, y Katya"
Related Events