Canby Ferry Alternatives Study Open House
June 13, 2018 at 5:00 pm

-

7:00 pm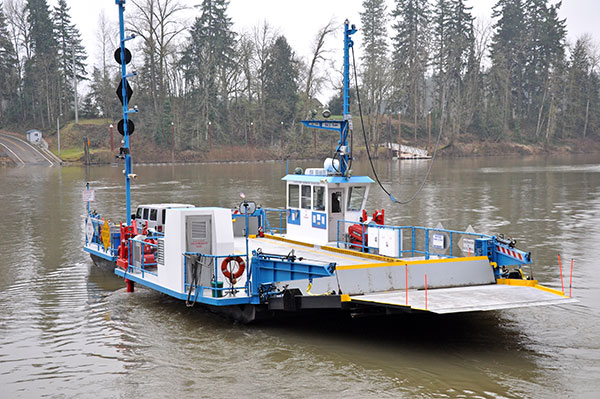 Clackamas County is studying the financial feasibility of alternatives ways to cross the Willamette River between Canby and Wilsonville.
–> Read background on this via BikePortland.org 4/20/18 https://bikeportland.org/2018/04/20/a-bridge-instead-of-the-canby-ferry-clackamas-county-wants-your-opinion-277248
While the ferry has been operating for over 100 years, it can provide only limited service. It only runs during daylight hours when the river level is below 70 feet, and can only carry up to six cars at a time. It also costs travelers $5 to cross one way, but costs the county considerably more money to operate than it generates.
During 2018 we are evaluating the long-term financial and traffic impacts of six possible alternatives for crossing the Willamette River at the ferry location – continuing or discontinuing ferry service, building a bridge and continuing or discontinuing ferry service, and building a toll bridge and continuing or discontinuing ferry service.
Please join us June 13 to learn more about this study and share your ideas on what factors we should consider.
The study of financial factors, potential traffic impacts and related factors will continue through the summer, and we plan to hold another public meeting in October to report what we have learned. The Board of Commissioners will review the study
results in late 2018, and no further action would be taken without additional public input.
For more information and to share your thoughts, go to www.clackamas.us/transportation/cfalternatives.html or contact Principal Transportation Planner Stephen Williams: 503-742-4696 or swilliams@clackamas.us