3rd Annual Bowie Birthday Ride
January 8, 2019 at 8:00 pm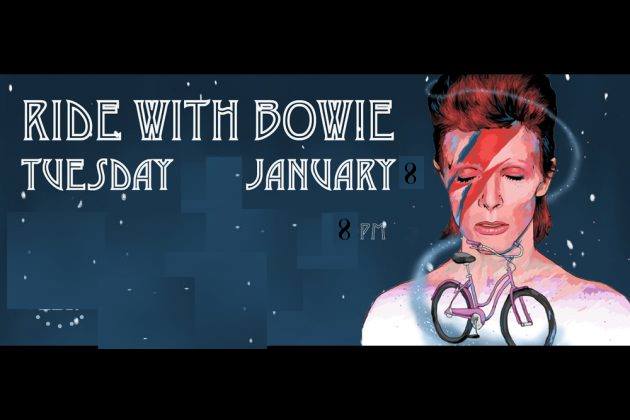 We're going to ride tonight to celebrate the birth of the one and only David Bowie, the gift of all his music and the wonderful artistry that he was blessed us with!
Like last 2 years, tonight's ride will be short with Brief Dance stop(s) and ending with a sing-a-long 🙂
Celebration of the life and music of David Bowie with a mobile dance party and sing-a-long!
We'll gather near the Bowie bike lane (near the Arlene Schnitzer Concert Hall) then go for a short ride and end with a group sing-a-long of our favorite Bowie songs.
Other sound systems welcome, even your small Bluetooth speakers (probably all I am going to bring myself actually, though I may be inspired, weather permitting.)
Also feel free to bring instruments to play along while we sing our little hearts our in memory of the one and only DAVID BOWIE!
Rest In Peace!
*FYI
This ride will happen Rain or Shine (but not in icy weather) but unlike Bowie vs. Prince of days of old will not go late and may end at an *adult oriented location (with some WARMTH) for more singing!
AND I'll post the end location as the ride starts here on this event page for those that want to just show up at the end to sing and dance!
SLOW pace
Not a loop!
Jonathan Maus is BikePortland's editor, publisher and founder. Contact him at @jonathan_maus on Twitter, via email at maus.jonathan@gmail.com, or phone/text at 503-706-8804. Also, if you read and appreciate this site, please become a supporter.