BikeCraft V Vendor Directory (Winter 2009)
The following people will be at BikeCraft V on December 5, 2009.
Please send additions, corrections and questions to intern at bikeportland dot org.
---
1 by Liz
Clocks made from chainrings; cassette magnets
Liz Dickey / 1.by.liz at gmail.com
---
Agent Ladybug's Decycled Designs
"Decycled designs and tuff stuff" bike tube bracelets and more
Margaret Cunningham
---
Almost Monday
Original limited edition drypoint prints
Serena Van Vranken / serenalv at gmail.com
---
Anthony Baysore
Woodcut stencils of urban bike scenes.
---
Becca Bikes
T-shirts with bicycle motifs
---
Bike Cozy
For the fashionably practical rider: caps, shoelace wranglers, toe cozies, cards, and more
Rachel Dominguez-Benner / BikeCozy at gmail.com
---
Bike Farm
Silkscreened cycling caps, underwear, and bike posters from a nonprofit community bike project
---
Bike n' Chain
Crocheted hats with a bike pattern
---
bIKE pUNK
Patches, shirts, sweatshirts, stickers
bikepunkprinting at gmail.com
---
Black Star Bags
Messenger bags, backpacks, panniers
Dave Stoops / blackstarbags at yahoo dot com
---
Brian Campbell
Habitable bike trailers
---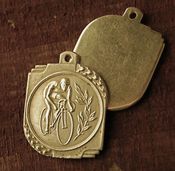 Ciclismo Design
Protection charms for cyclists
George Ramos / grwoodworking at gmail dot com
---
CityBikes
Buckets, saddles, bags, shirts, stickers, patches
Tim Calvert / tcalvert at pcez.com
---
A Convenient Cycle
PBR fender flaps w/reflector, fenders from tires, duct tape panniers, mobile bike repair
Edwin Skaug / info at aconvenientcycle.com / 503-267-8284
---
Paul Conte
Porteur racks, fenders, bamboo bottle cages
---
Cycle Dog
Dog leashes and collars from recycled inner tubes
---
Cyclocycle
Clothes, jewelry made out of bike parts
Paul MacCammond / pmaccammond at gmail.com
---
Deller Recyclist Apparel
Cycling caps
Shaun Deller
---
Ficus Prints
Screen prints based on vintage cycling photographs
Ben Parsons
---
Filmed by Bike
DVDs
Ayleen Crotty / ayleen at filmedbybike.org
---
Jacob Freepons
Handmade fenders from recycled materials
jfreepons at gmail.com
---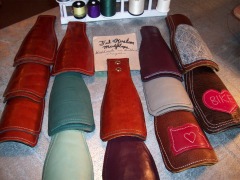 Ful-Floating, Ful-Kustom
Custom leather mudflaps
Gram Shipley / gram at shipley dot us
---
Fun Reflector
Reflective stickers, cut out into fun shapes; LED generator lights
Brian Engelen / bengelen at comcast.net
---
Julia Garretson
Jewelry from bike parts, paper, recycled materials
---
Gracie's Wrench
Repair classes
Tori Bortman /gracieswrench at gmail.com
---

Shawn Granton
Zines, bikey cards, and other graphic bike art
tfrindustries at gmail.com
---
jDuct
Duct tap wallets and flask wraps
Jen Hecht
---
Joe Kurmaskie
Joe will be selling his books about long distance bike touring with his family, as well as locally made t-shirts and caps.
---
Labelle Maverique
Gorgeous tube bracelets, inner tube jewelry, masks and belts.
Barbi Touron / dullleadsinker at yahoo.com
---
Gigi's Handy Work
Helmuffs — wooly ear covers that fit over your helmet straps
Gigi Lascurettes
---
Little Package
Wool cycling caps
---
Books, zines, patches, tees
joe at microcosmpublishing.com
---
Ms. Starry Art
Antique letterpress cards
Debbie West / msstarryart at gmail.com
---
North st Bags
Handmade backpacks and panniers
Curtis Williams / curtis at northstbags.com
---
Portland Pedal Power
Bike based delivery services
info at portlandpedalpower.com
---
Povera Jewelry
Simple jewelry made of bike parts
poveranews at grovestream dot com
---
Queen Bee Creations
Panniers, wallets, bags, and more
---
Rebel Cricket Screen Prints
Screen printed buttons, stickers, clothing
Cory Knudson / rebelcricket at gmail.com
---
Red Bat Press
Letterpressed and hand painted cards and calendars
Carye Bye / bikebat at gmail dot com
---
Redhead Press
Books, prints, cards
Melissa Anders / huachinango5 at yahoo.com
---
Rejuiced Bike Concepts
Bike trailers
Johnnie Olivan / johnnie at rejuicedbikeconcepts.com / 503.847.6200
---
SoupCycle
Amazing soups delivered by bicycle
Jed Lazar / jed at soupcycle.com
---
Sown Design
Bags and more
Courtney Trevino / sown.up@gmail.com
---

Lapa
Silkscreened arm warmers and cycling shirts for women
Leeta Stoughton / proteanarts at comcast dot net
---
Stumptown Printers
Bicycle themed posters printed by a worker-owned co-op
---
Sara Stout
Raincapes, seat covers, wall switchplates
---
Sweetpea Bicycles
"S'mittens" (lobster gloves) from upcycled sweaters; woodblock prints
Natalie Ramsland / natalie at sweetpeabicycles dot com
---
TCB Racks
Foldable, stainless porteur racks
Tad Bamford
---
Upcycle 27
Silkscreened goods on upcycled materials
Rebecca James / rjnamaste03 at gmail.com
---
Urban Legend
Cycling caps
Saya Prigoff / urbanlegendthreads at yahoo.com
---
Walnut Studio
Upcycled leather lock holsters, tube protectors, seatbags
Valerie and Geoffrey Franklin / walnutstudiolo at gmail.com
---
VeloGioielli
Upcycled bicycle-themed jewelry
Brian Echerer
---
Westwind Designs
Bento bags, cycle cuffs
Kyrstin Westwind / bikeblender at gmail.com
---