Southeast Portland-based HiFi Components is nearly five years into its journey as a bike company. And 2018 might be the year we can no longer call them a "start-up".

I rolled out to 92nd and Division last week to learn more about the brand and meet co-owners Joshua Liberles and Bre Rue. And like many pieces of our vibrant local cycling industry, the story of HiFi is also the story of how our community cultivates talent and works together to help businesses succeed.
The headquarters (open by appointment only for now) where they do all their wheel building and assembly is in the same building as Horacek Dental. When I commented on the nice location, Liberles said they were invited to rent the space from Dr. Horacek himself. "Rick's a bike racer too, so he was happy to have us."
HiFi has five owners and — as of last summer — one employee. In addition to Liberles and Rue, the company is partly owned by Jake VanderZanden of OTTO Designworks (inventors of the OTTO Lock) and its chief investor is Patrick Palmer, an executive vice president at RPM Mortgage. Liberles shared that Palmer, whom he met while racing on the HPChiro-RPM Mortgage Cycling Team, came to the sport later in life and credits it for turning his health around. When Palmer heard about HiFi, Liberles said, "He was excited to do something in the cycling industry."
As I learned about the people behind HiFi, it started to sound like a heist movie where they assemble a crack team to do a big job: Palmer is the financing guru who specializes in start-ups; Liberles is the face-man who does all the marketing; Rue is the wily engineer with overseas connections who designs all the products; and VanderZanden is the serial entrepreneur with business savvy. Together they make quite a formidable team.
Rue's experience in the cycling world began as a San Francisco bike messenger in the 1990s. After working as a mechanic in bike shops through the late 1980s she rose up to the highest levels of the sport as a mechanic and an elite racer — including being a professional mechanic for Ironman Kona and working on bikes in the professional road peloton. In the early 2000s Rue started building bikes out of carbon and went on to start Ruegamer Sports — a boutique carbon fiber bike brand. Rue hit a peak in 2007 when she built a 7.6 pound road bike that was showcased by SRAM at Interbike, the largest bicycle industry trade show. Rue sold Ruegamer in 2009 after the financial crisis and moved to Portland to work with Planet X/Titus. She currently works as service manager at West End Bikes when she's not at HiFi.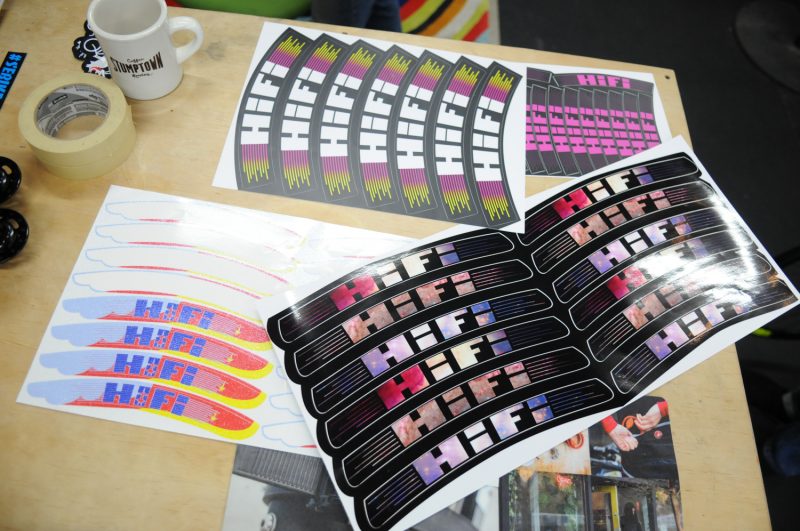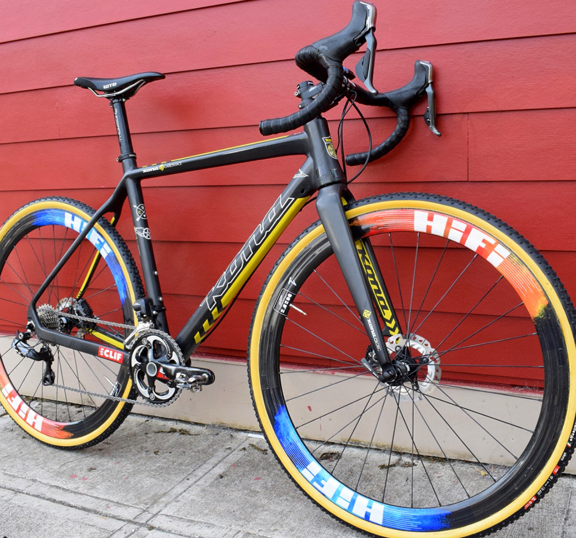 Liberles came to HiFi from a background in racing where he always sought out relationships with smaller brands. In Portland he worked with Corsa Concepts, a company that's no longer in business. In fact, when Corsa went up for sale five years ago, Liberles considered buying it before inspiration struck to start his own company instead. He's been committed to making HiFi a success ever since.
The brand's connection to music is Liberles' doing. "I remember looking at the black circle of a rim and thinking of a record and wanting to put lines in it. I can't believe no one had thought that before!," he recalled. Now he feels like the wheel and bikes and music connection provides "endless inspiration" for his marketing efforts. "It's so much fun to mix music and bikes."
HiFi also keeps things fun by staying nimble and innovative. Rue pointed out they were one of the first wheel companies to offer carbon tubeless road wheels. "We want everything wide and everything tubeless," she said.
With the online sleuthing of Liberles and the design skills of Rue, HiFi is able to find market niches and then create products to serve them. Combine that with their relatively small size and solid sourcing in Taiwan, and they can quickly adapt and try new things. Liberles was excited to show me several sets of wheels headed to a team that competes in the Red Hook Crit — a wild and fast fixed-gear racing series. The wheels feature through-axle front hubs (instead of quick-release skewers) for extra stiffness.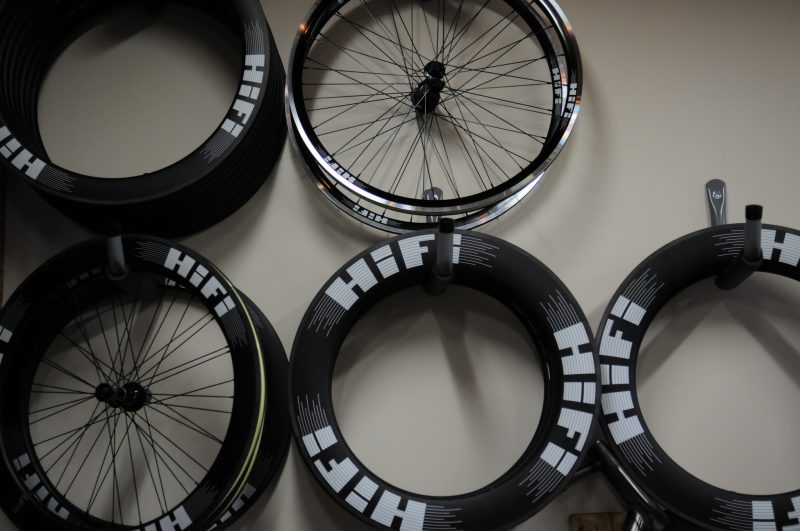 Finding high-profile athletes to use HiFi wheels is a key part of Liberles' marketing strategy. This past cross season the wheels were used by Team S&M/Sellwood Cycle Repair rider Clara Honsinger who competed at the World Championships. HiFi wheels were also used by Ben Gomez Villafańe in his Junior National Championship victory. You'll also see HiFis much closer to home on the bikes of riders who are only in it for fun. HiFi supports local adventure riders and has become the meeting place of a weekly Thursday night east Portland ride led by the Unpaved/Our Mother the Mountain group.
The other thing that sets HiFi apart from other aftermarket wheel companies is their relatively low pricing. Their popular aluminum "Mix Tape" clincher road wheels start at $549. "Yes. We're high-end but not pretentious," Liberles said, while sporting a pair of $2 Ikea slippers.
HiFi rider Aaron Edge (whose amazing custom bikes we saw at the recent Velo Cirque show) said he appreciates how accessible the company is. "I know all the staff involved in their process — from design to building — personally. I have their numbers in my cell, and I don't know any other HiFi riders that don't also have their contact information, should they need it. There are not many companies that'll answer a call, a text or an email right away. That goes a long way with me."
Their wheels and hubs (which they make) are also fully serviceable. "There's nothing proprietary in our wheels," Rue said, as she took apart a few hubs by hand to show me the pawl and bearing mechanisms inside. "You could take these in for service at any bike shop and they won't need special tools or parts."
Only about 10 bike shops carry the wheels so far (locally you can find them in Sellwood or West End). HiFi also sells direct via their website and through the many teams they support. But all that's likely to change. Liberles was bullish on what he thinks the company will do in 2018. HiFi has quadrupled sales volume every year since the start and now has trouble keeping up with orders. "It should be a big growth year for us," Liberles said.
Because they've been smart with their finances, have laid a solid marketing foundation, and have grown organically, the company is poised for big things. "We're not beholden to anyone financially, so we can bootstrap this thing," Rue said. "Very few start-ups can say that."
— Jonathan Maus: (503) 706-8804, @jonathan_maus on Twitter and jonathan@bikeportland.org
Never miss a story. Sign-up for the daily BP Headlines email.
BikePortland needs your support.