I used the Lafayette Street Bridge for the first time last week. And I liked it.
The bridge was completed by TriMet in 2015 as part of the Orange Line MAX project and creates a connection over railroad tracks in the Brooklyn neighborhood between SE Lafayette and Rhine streets. It's the only crossing of the tracks between Holgate and Powell (major arterials).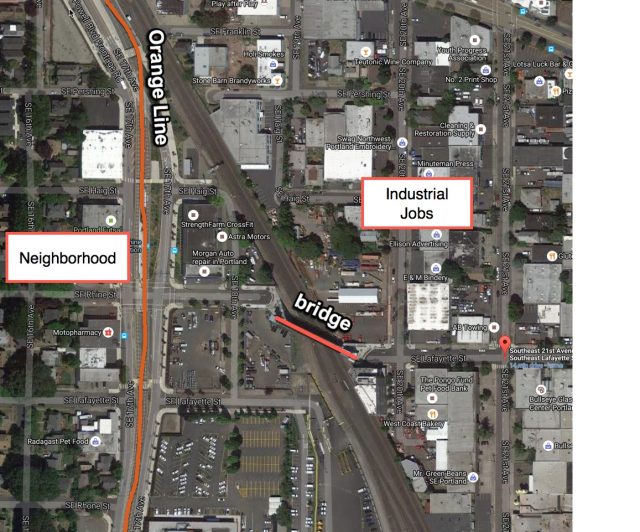 I used it as a way to get back to the Willamette river (via the Orange Line) from the industrial area off of SE 21st south of Powell. I was visiting Portland Design Works and a few of the employees there raved about the bridge — saying it makes their daily commute much easier. They also said the elevator had been very reliable. I was worried about reliability since the elevator that services the Gibbs Street Bridge under the Aerial Tram in south waterfront has been anything but. (Note: TriMet manages the Lafayette Bridge, the City of Portland manages the Gibbs Bridge.)
When we first reported on the bridge in September 2015 we said it would, "be a useful link to people looking to head east or west using the bikeway on Gladstone Street, including people moving between downtown Portland and Reed College, Woodstock and Creston-Kenilworth."
So far my hunch is that it's been a success. I base that partly on how easy it was for me to use last week — and also because I haven't heard a peep about it from anyone.
Have any of you incorporated it into your daily riding? And if so, how do you like it?
UPDATE: Thanks for all your comments. Here is some feedback we heard from readers via Twitter:
https://twitter.com/JoshChernoff/status/795733611362205702
Okay, I suppose, but I'd rather have a ramp.

— Jerry (@gwhilts) November 7, 2016
we take it several times a week & it's nice

— Paul Souders (@axoplasm) November 7, 2016
— Jonathan Maus, (503) 706-8804 – jonathan@bikeportland.org
BikePortland is supported by the community (that means you!). Please become a subscriber or make a donation today.