The City of Portland is not a fan of drive-through windows. For decades Portland has adopted regulations that limit how and where drive-throughs can be built.
City planners believe drive-throughs don't serve the community's best interests and that they lead to auto-oriented development that's directly counter to adopted policy goals and dangerous for people on foot, on bike, and on mobility devices.
Now the city's Planning and Sustainability Commission wants to ban new drive-throughs east of 80th Avenue and require all establishments that already have them to serve all customers, not just those using cars.

"Ideally, you can't refuse service based on mode."
— Chris Smith, Portland Planning and Sustainability Commissioner
Last June City Council adopted the 2035 Comprehensive Plan. Policy 4.24 prohibits drive-through facilities in the entire Central City and limits their development in close-in commercial districts in order to "support a pedestrian-oriented environment."
At their August 23rd work session, members of the Planning and Sustainability Commission (PSC) voted on a package of amendments to the Comp Plan that take the drive-through regulations several steps forward.
The commission's Comp Plan Early Implementation Package Recommendation (avaliable here) includes two new zoning code changes we'll likely be hearing about a lot more in the weeks to come: An outright ban on new drive-throughs east of 80th Avenue, and a policy that would require businesses to serve customers who show up on bike, foot, or mobility devices. (You can see the language starting on page 192 of this PDF.)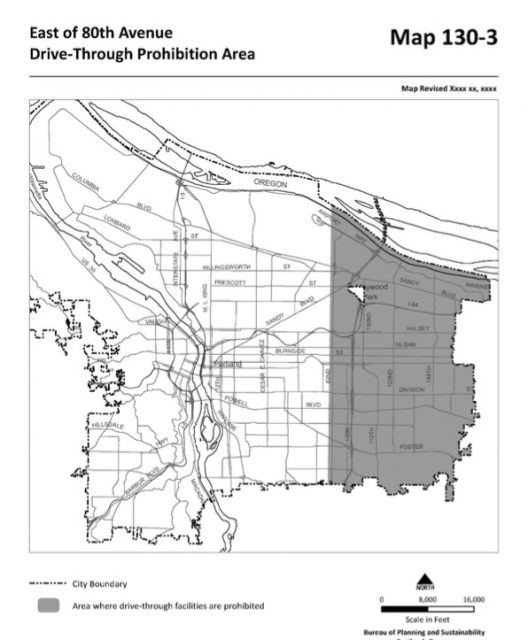 Why ban new drive-throughs east of 80th? Here's how a Bureau of Planning and Sustainability employee explained the PSC's rationale during a City Council work session on September 15th (at 49:15 in this video):
"The logic of that was east Portland has a lot of low-income and communities of color… If you believe that those neighborhoods aren't quite ready for mixed-use development from an economic point-of-view, we don't want the auto-oriented fast food chain restaurants to be the only thing serving that population. The PSC were coming at it from a community development, local economic [point-of-view]. Let's leave room for the local economy to devolop and not let it be dominated by chains which tend to be the drive-through kind of places."
The PSC is concerned that too much of east Portland has been zoned as CE, Commercial Employment. It's the only designation that allows new drive-throughs and specifically accomodates auto use. CE zoning was was expanded in east Portland thanks to lobbying by a group of business interests known as the Retail Task Force. The PSC sees the ban as one way to counter that expansion of CE zoning.
Another front of this battle against drive-throughs is multi-modal access.
One of the many subtle forms of discrimination that exists in our transportation system is how some retail businesses close to certain customers based soley on how they get around. You might have experienced this before at your local pharmacy or fast food restaurant: Only the drive-through window is open but you get denied service simply because you're not in a car. This common practice discriminates against customers who show up via their feet, a bicycle, or a mobility device.
"That's not O.K.," said PSC Commissioner Chris Smith during an interview yesterday. "Ideally you can't refuse service based on mode. In a city that aims to be less than 30 percent single-occupancy vehicle mode share, that's just not cool."
Smith and the PSC he sits on want to change this. Here's the amendment they've recommended to city council:
33.224.070 Multi‐Modal Access
When a drive‐through facility is open and other pedestrian‐oriented customer entrances to the business are unavailable or locked, the drive‐through facility must serve customers using modes other than a vehicle such as pedestrians and bicyclists.
And it's worth noting that the city's definition of "pedestrians" includes an ADA access requirement. Also keep in mind that these zoning codes would apply to food establishments as well as banks, gas stations, pharmacies, and other retailers. Portland has about 308 drive-throughs citywide – about one-third of which are east of 80th.
When the new drive-through restrictions came up last spring, there was support from neighborhood groups (including East Portland Action Plan) and advocates (like Oregon Walks). But there was also a big backlash. The media grabbed hold of it and outrage followed. There was a Stop the Ban website and Facebook group and the Oregon Restaurant and Lodging Association even put out a press release saying that the provisions discriminated against, "Mothers with children, people with disabilities, and the elderly who rely on the convenience and accessibility that drive through locations provide."
While lobby groups and some major retailers oppose any drive-through regulations, some companies don't seem to mind at all. Burgerville, Fred Meyer, and Walgreens now explicitly allow bicycles in drive-throughs.
Even so, these new proposals are likely to start a fresh round of debates. It's all part of the tension between Portland's existing auto-oriented landscape and a future where cars are just an afterthought.
What do you think? City Council needs to hear your perspectives.
There are two public hearings coming up next month: October 6th and 13th at 2:00 pm at City Council Chambers (1221 SW 4th Avenue). You can also send in feedback via email to cputestimony@portlandoregon.gov with subject line "Comprehensive Plan Implementation".
— Jonathan Maus, (503) 706-8804 – jonathan@bikeportland.org
BikePortland is supported by the community (that means you!). Please become a subscriber or make a donation today.