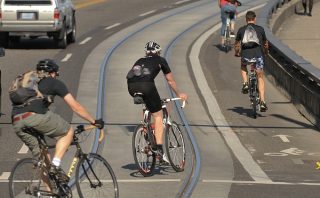 In the city with North America's largest streetcar system, on-street rails almost rival automobiles as a factor in collisions that injure people on bikes.
That's one major finding in the first academic study in North America dedicated specifically to the danger of streetcar tracks to people biking.
Among bike-related injuries in Toronto that resulted in emergency-room trips, the study found, 32 percent directly involved streetcar tracks and more than half happened on streets with streetcar tracks. And in what lead author Kay Teschke described as "a surprise to us," 67 percent of track-related injuries happen away from intersections.
"Streetcar tracks and people on bicycles are a bad mix; they need to be separated."
— Dan Bower, Portland Streetcar
Teschke is a professor at the University of British Columbia. Her team's previous work with this data set (gathered from interviews with people injured at Toronto and Vancouver BC hospitals) has been a major force behind the spread of protected bike lanes in North America.
"There are so many cities building streetcar and light rail these days," Teschke said in an email Wednesday. "It is important to learn from the Toronto situation."
Portland is among those cities. Today, its 7-mile system has only one-eighth the length of Toronto's. But The Oregonian reported last month on its continuing plans to expand the streetcar system on Northeast Sandy, Northeast MLK, Northeast Broadway or Southwest Macadam, overlapping with bus lines there.
Dan Bower, executive director of Portland Streetcar and the former head of Portland's active transportation division, said in an email Wednesday that the study confirms his conviction that "streetcar tracks and people on bicycles are a bad mix; they need to be separated."
When new streetcar spurs include good bike infrastructure like the raised protected bike lane on Southwest Moody, Bower said, streetcar projects improve biking safety.
"I think you would be hard pressed to find anything designed after 2001 to be fundamentally flawed from a cycling perspective, with one major exception of NW 10th/Lovejoy, which, importantly, led to the building of the NW Johnson and NW Marshall St. Greenways," Bower wrote.
Bike lanes cut track-injury odds by 66 to 85 percent
Other findings from the UBC study, which was published Friday as an "open peer review" piece in Bio Med Central Public Health:
• The more often you bike, the less susceptible you are to tracks. Every additional 100 bike trips per year cut the odds of a track-related injury by one-third.
• Virtually all injuries of people who are making left turns on bikes were track-related.
• Painted bike lanes greatly reduce the odds of streetcar track injuries. Having a painted bike lane on a major street with parked cars cut the odds of a track-related injury by 85 percent; having one on a street without parked cars does so by 66 percent.
• Independently of biking frequency, women biking have double the odds of a track-related injury compared to men.
• 54 percent of the bike types "commonly sold" in Toronto bike shops have tires narrower than the 34.5 mm flangeways in that city's streetcar tracks. (Portland's flangeways are 44.45 mm, Bower said. Based on Teschke's data, the overwhelming majority of common bike types likely have tires narrower than flangeways here.)
I asked Teschke if she had any thoughts on the gender disparity.
"Data from other studies show that women on average ride slower than men," she said. "Usually that is a safety benefit, but perhaps a detriment when riding over tracks."
Streetcar director: 'Fundamental issue' is lack of good bike lanes, not presence of tracks
As for the left-turn issue and the huge percentage of track-related injuries that happen mid-block, Teschke sees them as signs that streets with streetcars need clearly separated lanes and paths for bikes.
"Tracks don't seem like a good place to perform 'vehicular cycling' left turns," Teschke said, adding: "We didn't see any non-intersection crashes on streets with dedicated streetcar rights of way."
Bower said he's taken two spills on streetcar tracks on his own bicycle, but noted that Toronto's tracks were built "many, many years ago." The "fundamental issue" with North American streetcars, he argued, is "the lack of proper bicycle facilities."
"Streetcar has been a very active partner in trying to make the situation better here in Portland and we are constantly being asked by our peers across the country about lessons learned, which you will see applied," Bower said. "In my role as executive director I try to be as active as possible in moving important bike projects forward because in my mind that is the best long-term solution for this issue."
— Michael Andersen, (503) 333-7824 – michael@bikeportland.org
Our work is supported by subscribers. Please become one today.