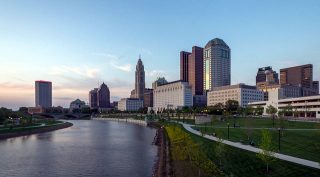 Well, it's a nice week to be an Ohioan.
Two days after the NBA Championship, the Buckeye State's capital has apparently scored a $40 million federal grant that'll be matched by $100 million in private investment to create a model of a future tech-connected city.
Columbus beat out Portland, San Francisco, Austin, Denver, Pittsburgh and Kansas City for the Smart City Challenge victory, an initiative of U.S. Transportation Secretary Anthony Foxx.
The news was first reported by Columbus Business First, which told the Pittsburgh Business Times that it had gotten the information from Ohio Sen. Sherrod Brown. Columbus CEO magazine offered further confirming details.
Though many of the elements of Columbus's proposal are similar to Portland's ultimately unsuccessful one — a multimodal mobility app, electric vehicle charging stations — two things jump out as being absent from Portland's proposal:
• Local Columbus companies pledged $90 million of their own investment in smart transportation technology as part of the matching-fund total.
It's hard to say how much of this is just clever repackaging of money that would have been spent anyway, but it's a very impressive sum. Portland's application drew lots of letters of support but no local financial commitments like that.
• A self-driving fixed-route transit line through the job-rich Easton neighborhood is one of the marquee elements of the Columbus plan — one of the few that the Washington Post mentioned specifically in its June 9 overview.
Though Portland's initial proposal for the challenge included self-driving transit over Tilikum Crossing, this was scrapped from Portland's final application. Adrian Pearmine of DKS Associates, who helped prepare Portland's application, told me May 16 that TriMet had vetoed this element.
In January, we reported one Portlander's interesting warning that unless U.S. cities develop self-driving transit lines (which would be far cheaper to operate and therefore potentially much more frequent) riding in cars could get catastrophically appealing compared to the alternatives.
There were surely many reasons Columbus won this contest, some beyond Portland's immediate control. From the Post:
With its mix of blue-collar, white-collar and older workers, and its diversity, firms such as McDonald's and brands such as Victoria's Secret have seen Columbus as the "test marketing capital of the world," the city's mayor says. Now they want to test-market tricked-out road networks.
If new ideas come from Columbus, the ones that work might be easier to export.
This may come off as faint praise (if it helps, I grew up in Toledo) but few American metro areas of 1 million residents have more generic reputations than Columbus. If Portland had won this challenge and led the nation in next-generation traffic signal and mobility technology, it might have been easy for people in Tallahassee to inaccurately dismiss the best ideas as things that only work for bourgeois hippies. If new ideas come from Columbus, the ones that work might be easier to export.
But of course, Portland didn't always have a national reputation as an innovator. It earned the one it has, starting with its urban growth boundary in the 1970s and continuing with light rail, parking reform, modern streetcars and bicycle transportation.
Investments like this one are exactly the way cities build reputations, and become the Portlands — or at least the slightly more awesome Columbuses — of the future.
— Michael Andersen, (503) 333-7824 – michael@bikeportland.org
Our work is supported by subscribers. Please become one today.
Correction 6/22: An earlier version of this post confused the Columbus neighborhoods of Easton and Linden.