More and more Portlanders are choosing to bike.
That's the great news being confirmed this year by one data point after another. The latest: a city auditor's survey released Friday, which estimated that fully 9 percent of Portlanders bike to work during the summer — the second consecutive year of increase.
In inner Northeast neighborhoods, the bike-to-work rate is 19 percent, about twice as popular as public transit (10 percent) and more than a third of the rate for driving alone (52 percent).
The citywide figure is a bit lower than the latest Census estimate of 7 percent bike commuting as of 2014. The Census averages year-round bike commuting, while the city circulates its survey (which covers a huge range of topics) between June and August.
The auditor's survey also estimated that drive-alone commuting is at its lowest rate on record: just 60 percent of all commutes.
The city also asks a question that's not on Census surveys: over the last week, what was your primary transportation for all trips, including errands and shopping as well as work? On that measure, Portland posted a much lower 5 percent biking. That was the same ratio residents reported in 2011 and 2014, suggesting that if Portland has indeed increased bike commuting, it might have actually seen small declines in biking for non-work trips.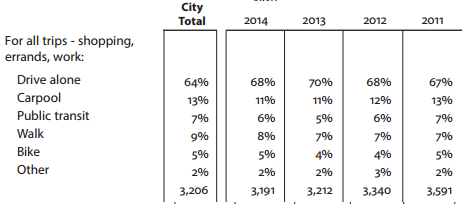 For the first time, fewer than two-thirds of Portlanders say that driving solo is their main way of getting around.
All citywide questions have a margin of error of plus or minus 1.7 percent.
The growth in bike commuting makes some sense given the infrastructure we've been prioritizing. In the last five years, by far Portland's most significant biking investment has been its neighborhood greenway system, which is ideal for longer-distance trips along familiar routes but harder to use for shorter neighborhood trips, because it doesn't connect well to the streets where most businesses are.
Another likely factor: since the last recession, a much larger share of new jobs and residents are landing in near the city center rather than in the suburbs. That's probably helping boost biking by making short commutes more common, but it's not having as big an impact on Portlanders' other transportation destinations.
After the Census released its 2014 estimates in September, we called around to local bike shops to ask if they were selling more utilitarian bikes. Most said they were — and that 2015's increase in bike sales had been even bigger.
— Michael Andersen, (503) 333-7824 – michael@bikeportland.org