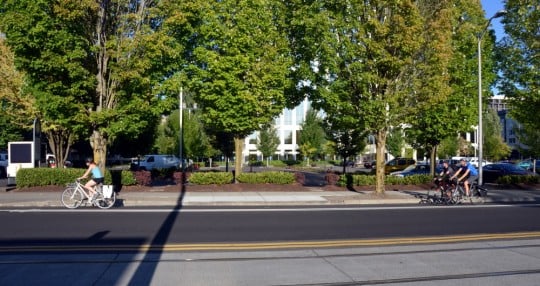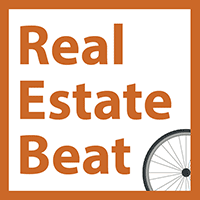 There aren't many ways that a new six-story $13 million parking garage subsidized by a health care company is good news. But at least in this case it might not be entirely bad.
Kaiser Permanente, the medical insurer and provider that owns more than three acres of surface and two-story parking lots between Northeast Grand Avenue, 7th Avenue, Wasco Street and Holladay Street, said Monday that it's looking to build a new 700-space garage with ground-floor retail at 500 NE Multnomah Street.
That's the site of Kaiser's existing, seismically delicate two-story parking garage, immediately east and southeast of its office tower.
The site is adjacent to a MAX stop with service east and west every three to seven minutes for most of the day, plus a streetcar line and four bus lines, three of which offer frequent service or will soon.
Kaiser Real Estate Director John Sullivan said in an interview Monday that the project aims in part to free up space on Kaiser's other parking lots, which could then be developed or sold in order to continue the surge of big developments along the Lloyd District's new streetcar line and protected bike lanes.
The current parking lot at 500 NE Multnomah opens east and west onto 6th and 7th avenues. NE 7th Avenue has the Lloyd District's only north-south bike lane between Holladay and Multnomah. If a new bike-walk bridge is built across Interstate 84, 7th would likely become Portland's most important north-south bikeway. Depending on its eventual layout, the garage threatens to concentrate a lot of vehicle turns across either Multnomah or 7th.
"This parking structure tees up the possibility of future development," Sullivan said. "But that's not the only reason we're developing the parking structure."
Sullivan said the existing garage is just 40 years old but that "the concrete didn't cure correctly" when it was built and the "post tension cables have snapped," leading the firm to close the upper deck to parking a few years ago.
Kaiser's surface lots have room for only about 400 cars among them, so the new garage would be far bigger than what Kaiser's office buildings currently use. Sullivan said the garage would take three or four years to build and will include a large covered area for both employee and public bike parking, plus space for a future city bike share station.
Owen Ronchelli, executive director of the Go Lloyd business association, said Friday that this seems to be a change of course for Kaiser since the big Hassalo on Eighth project opened next door.
"The last I heard was that they want to seismically retrofit what they've got, because that was the least expensive option," Ronchelli said. "I probably heard this about four or five months ago. … So I'm encouraged that they're trying to think of something different."
Kaiser made its plans public last week in a request for city design guidance, first reported by NextPortland.com.
There's some question over whether Kaiser is allowed to build so many new parking spaces without also building something larger. City code allows a maximum of 2 spaces per 1,000 square feet of leaseable office space in the Lloyd District, and the city's property records list Kaiser's office tower as being only 280,000 square feet. That'd allow only 560 spaces, tops.
But Sullivan said he thinks the city website is incorrect, that Kaiser's building is well over 300,000 square feet, and that including the new ground-floor retail space, Kaiser is allowed to build all 700 spaces.
"Our architects measured it," he said.
Sullivan added that the fate of the surface parking lots north of Multnomah is "so far out, I don't know if that's even a consideration right now."
We've written this year about the Lloyd District's 70-year search for prosperity through auto traffic, its startling decision in the 1990s to start moving away from automotive development and its huge potential as a hub for bike-oriented life in the next 10 to 15 years, if the streets nearby continue to be improved.
Assuming $70 in monthly revenue per stall (and zero operating expenses) Kaiser would recoup the cost of its proposed parking garage in 2036.
In 2012, a new streetcar line arrived and Multnomah Street was also restriped from a four-lane speedway into a calmer three-lane format that included two of the city's first protected bike lanes. Multnomah Street's shift since then has been rapid.
American Assets Trust has built or is preparing to build 1,597 new apartments there, plus commercial space, a car-free street and one or more huge bike valets. Two blocks east, the Lloyd Center Mall is redesigning its entrance to face the street rather than blocking it off. Two blocks further east, 980 units with retail could replace the Lloyd Cinemas movie theater and its parking lot.
At the moment, Kaiser's big lots are the exception to this trend. Despite some visually spectacular concept proposals (PDF), the health-care company has shown no interest in becoming a real estate developer.
For the moment, the exception is that it's apparently willing to develop a big new parking structure. Sullivan said the company currently subsidizes parking for its employees, offering them spaces on its lots for $60 to $70 a month.
According to Carl Walker Inc., building a parking structure in Portland currently costs, on average, $17,875 per stall. Assuming $70 per month per stall (and zero operating expenses) Kaiser would recoup the cost of its new parking garage in 2036.
— The Real Estate Beat is a regular column. You can sign up to get an email of Real Estate Beat posts (and nothing else) here, or read past installments here. Correction 11:10 am: An earlier version of this post miscalculated the theoretical payoff time for the project.