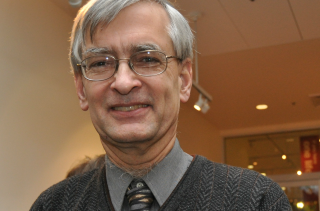 Doug Klotz is a longtime Richmond Neighborhood
Association board member. He also co-founded
the advocacy group
Oregon Walks
.
(Photo: Oregon Walks)
One of Portland's longest-serving neighborhood association board members survived a recall vote Monday night by the thinnest margin possible.
Doug Klotz, a member of the Richmond Neighborhood Association since "around 1993" and a longtime advocate for Portland to become more walkable, bikeable and transit-oriented, won the right to stay in office by a single ballot out of 252 cast.
The neighborhood association's bylaws require a 2/3 majority to agree with the recall proposal. According to a count Monday night and a recount Tuesday by the Southeast Uplift neighborhood coalition, opponents of Klotz found 167 votes out of the 168 they would have needed.
The Richmond neighborhood includes the area south of Hawthorne and north of Powell, east of 28th/29th and west of 50th/52nd. It includes the stretch of Division Street that has rapidly changed over the last few years from a relatively low-density auto-oriented corridor into a street lined with low-rise apartments and popular (and in some cases expensive) shops and restaurants.
The Richmond Neighborhood Association is an influential group in the future of the Clinton Street Neighborhood Greenway.
Though the neighborhood association has been overwhelmingly focused on issues related to that shift, it's also an influential group in the future of the Clinton Street Neighborhood Greenway. At a public open house tomorrow night, the city plans to propose one or more traffic diverters that would reduce auto traffic on that street in order to make it friendlier to biking and walking.
The vote over Klotz's recall was prompted by a different election earlier this year. As we reported in June, Klotz mounted an effort this spring to recruit like-minded people to serve with him on the board. As part of that effort, Klotz posted to two bike-related listservs, BikeLoudPDX and Active Right of Way, suggesting that Richmond neighborhood residents on those lists should consider running for board office or simply turn out to vote for the candidates Klotz supported.
Klotz's effort worked, more or less. An unusually large number of people (39) showed up at Richmond's June election and voted in three new board members. That vote ousted three incumbent board members, including the neighborhood association's former chair, Allen Field.
Field and Klotz have often disagreed about issues related to infill and development.
After being voted out of office, the three ousted members — Field, Bonnie Bray, and Karin Maczko — accused Klotz of misconduct because one of his emails had described the incumbent Richmond board as "less than bike friendly." With a 6-6 vote on Aug. 24, Richmond's new neighborhood board decided not to create a grievance committee to further review the situation.
Meanwhile, Klotz's critics took their campaign to the neighborhood itself, gathering the 12 signatures required for a recall vote, which is allowed "with or without cause."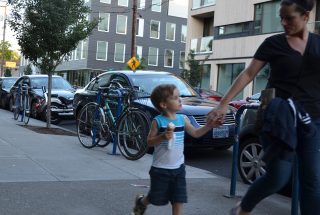 Division Street's urban overhaul is a major
source of contention in the Richmond area.
(Photo: M.Andersen/BikePortland)
In an email to neighborhood residents circulated last week, Field urged neighbors to base their vote on Klotz's tactics in the earlier election and on his support for paid auto parking and infill. (Klotz supporters subsequently disputed the specifics of Field's claims.)
Hundreds of supporters and opponents of Klotz (or at least of his opinions) attended Monday's neighborhood association meeting. Southeast Uplift neighborhood planning program manager Bob Kellett, who helped oversee the vote, said Tuesday that every person voting needed to be present.
"Their bylaws don't allow for proxy voting," Kellett said. "The meeting was from 7 to 9, so we accepted ballots until the end."
Kellett said they modeled the vote process on previous Richmond elections: voters were asked to give their address and to agree that they were a resident or property owner within the neighborhood.
After the initial vote count came up with 167 votes for recall and 85 against — one vote short of the total needed for a recall — election organizers decided a recount would be needed. But they didn't want to keep everyone there until late in the evening.
"We counted them at the meeting and then wanted to make sure that the results were accurate, so the executive director [of SEUL, Anne Dufay] took them home last night, and we counted them again in the office this morning to verify that we got them right," Kellett said.
I asked Kellett if his experience with other neighborhood associations could offer any guidance as Richmond deals with such a contentious series of events.
"Periodically neighborhood association boards just have situations that arise, and they kind of have to be worked out," Kellett answered. "Obviously there are feelings on all sides of the issue. … I think if we can harness the energy that's been involved with this to try and make improvements and move forward, then that's the best path for the neighborhoods and for the board."