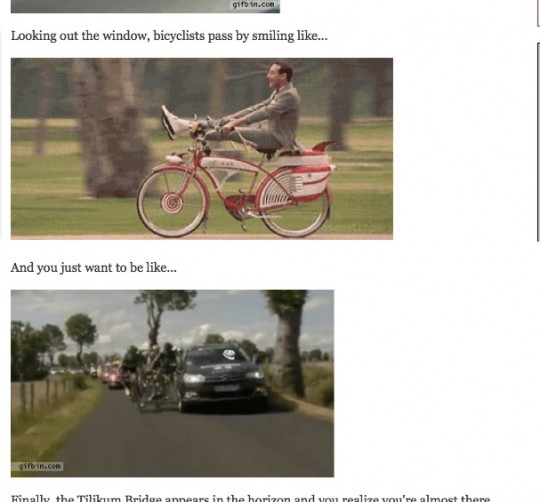 A story posted on The Oregonian's website earlier today seems to make a joke about very serious and potentially dangerous driving behavior.

The story, Portland's morning commute without the Sellwood Bridge as told by GIFs is a response to current detours in place due to construction of the new Sellwood Bridge. The construction has caused a lot of congestion and backups during the morning rush hour.
The author of the story, Adrianna Rodriguez, uses a series of animated GIFs as a humorous way to share what some people are going through as they experience the traffic backups. Each GIF is accompanied by a caption.
"Looking out the window," the story reads, "bicyclists pass by smiling like…" and the GIF shows a photo of Pee Wee Herman smiling and happy on his bike. Then the next caption reads, "And you just want to be like…" which is followed by a GIF of someone who swerves their car into a pack of bike riders.
This type of thing is totally unacceptable — especially on a day when someone died in a collision with a truck driver.
It's also worth noting that The Oregonian Editorial Board is actively lobbying City Council to invest fewer dollars of their proposed street fee and tax plan on the type of projects that would make the scenario depicted in that GIF less likely to happen.
We've asked The Oregon to edit the story and will update this story when they've done so.
———–
UPDATE, 4:04 pm: The Oregonian has removed the offensive GIF. They have posted this update message at the top of the story:
"Update: We have removed a GIF from this story that was offensive to some of our readers. While this post is tongue-in-cheek and was meant to be humorous, we apologize for unintentionally making light of the dangers that cyclists face on our roads."
UPDATE, 4:25pm: Reporter Adrianna Rodriguez has tweeted an apology:
@CoachJanks @norskieMN @pmhobson @BikePortland I appreciate the heads up. I took out the GIFs and I'm sorry. I didn't mean to offend.

— Adrianna Rodriguez (@AdriannaUSAT) November 21, 2014
UPDATE: @markecarter on Twitter has posted a GIF that would have made much more sense:
@BikePortland Fixed. pic.twitter.com/otaO3VpNSR

— mark (@magikaltrash) November 21, 2014