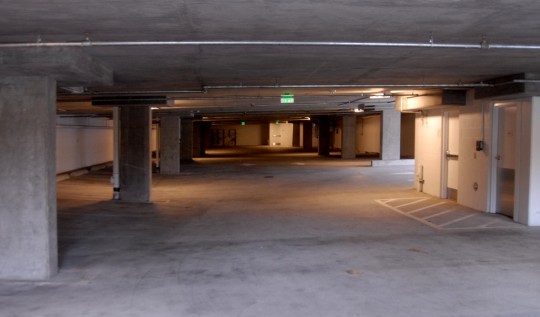 The Linden apartments at SE 12th and Burnside are 98 percent leased, but 39 of their 110 on-site parking spaces, including the entire lower-level garage, have never been rented. These spaces rent for $110 a month, but street parking is free. (Note the occupied bike rack at the back of the garage.)
(Photos: M.Andersen/BikePortland)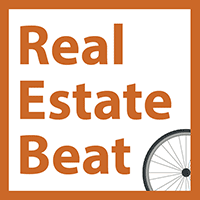 When Steven Van Zile moved from Los Angeles to the Pearl District last year for a job managing Guardian Management's portfolio of Portland-area apartment buildings, the low number of parking spaces at some of the newer properties made him nervous.
Linden, the company's new building on Burnside and 12th, had only 110 parking spaces for 132 units. In an interview at the time, Van Zile expressed gratitude to the building's developer that the on-site parting lot was larger than at some other buildings. But what would happen if garage space ran short?
It turns out that Van Zile needn't have worried.
A year after it opened, Linden is 98 percent full. Its one-bedrooms start at $1,295 a month for 576 square feet; a 922 square foot two-bedroom is $2,085. Parking in the on-site lots adds another $139 for the upper level, $110 for the lower.
The lower garage, however, is completely empty.
Of cars, that is.
Bike parking at Linden, meanwhile, has been swamped.
When I stopped by the building's garage in late August, I saw every rack full: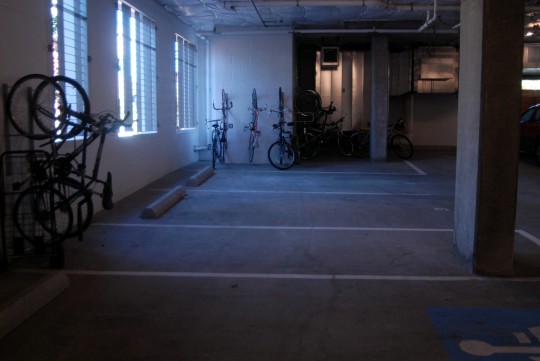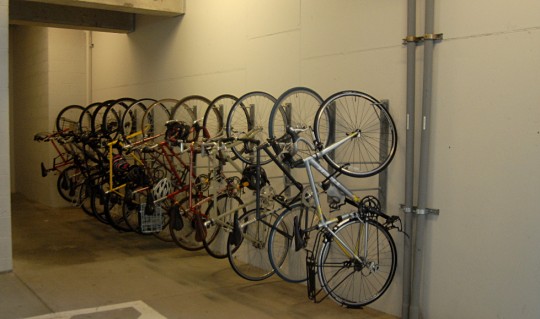 I saw a bike locked to a pole inside the garage: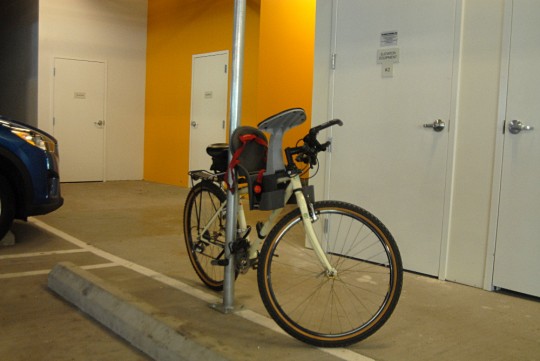 I saw bikes locked to the bars of the windows: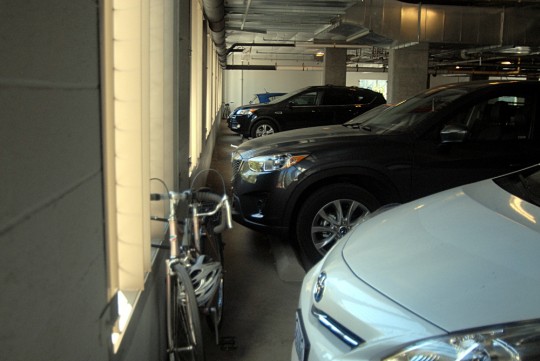 I saw a bike locked to a bike: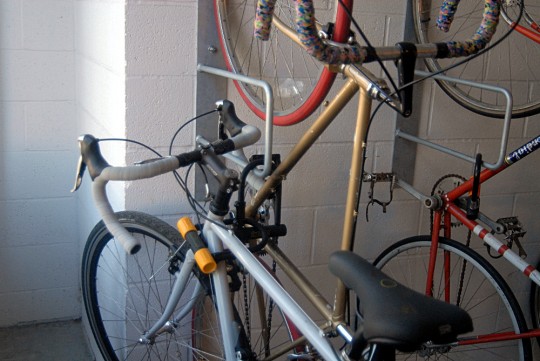 There are also bikes being stored on maybe half the balconies outside the building: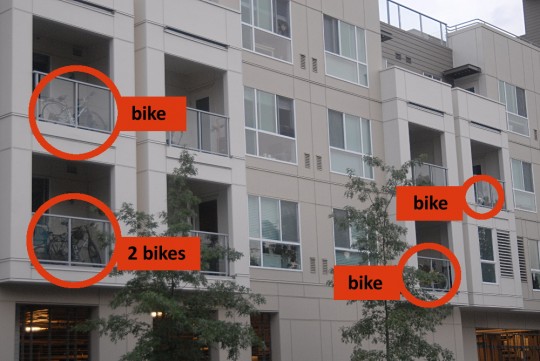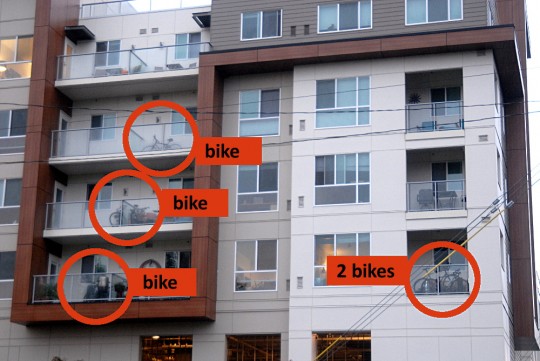 Brandy Guthery, Linden's on-site manager, said the building has been working hard to keep up with the demand for bike parking.
"We've already installed more, and now we're installing even more," she told me in August. As for all the empty auto parking spaces, Guthery predicted that once winter came, Linden residents who have been parking their cars in the street for free would begin moving indoors.
If that's true, it hasn't happened yet. Guthery said in a follow-up interview Wednesday that garage occupancy is exactly what it was in August: three spaces open in the upper garage, every space open in the lower one.
– Real Estate Beat sponsorship available – Call Jonathan at 503-706-8804 for info –
Linden's bike parking situation is unusual, because the building was first approved as a senior housing development. During the city's review process, Linden's developers asked for and received a waiver from the city's requirement that the building include at least 1.1 bike parking spaces for every unit. However, late in the process, Linden's developers changed course and decided to market the building as a higher-end building for singles and small families — an approach that has apparently worked well when it comes to filling bedrooms.
It's not clear how many Linden residents have ended up parking off site and how many don't own cars at all.
"I live a couple of blocks from the Linden, and I haven't heard any complaints about parking spillover," said Greg Moulliet, co-chair of the Buckman Community Association.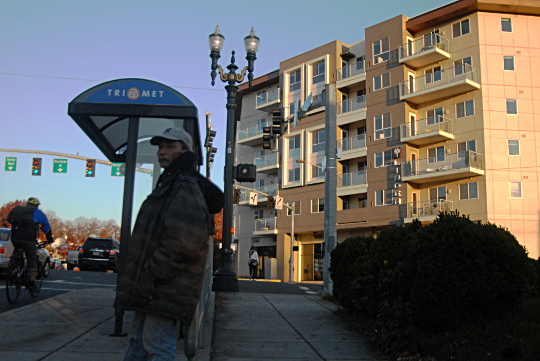 Outside Linden at Southeast 12th and Burnside.
But Susan Lindsay, the association's other co-chair, said parking spillover "has been an ongoing situation with many of the new apartment buildings recently built, even if there is some included parking."
In any case, Linden's auto parking situation captures a larger phenomenon in central Portland housing right now: a year after the city, responding to a wave of neighborhood complaints, began requiring new buildings of more than 30 units to include on-site auto parking even if they're on a frequent bus line, many of the new parking spaces aren't keeping cars off the streets.
"The reality is we can't force people to pay for it," developer Aaron Jones told the Portland Tribune this month after trying and failing to rent parking spaces for $85 a month near his apartment project at 48th and Division.
Developers charge for on-site auto parking because each auto parking space within the footprint of a building costs $20,000 to $55,000 to develop by taking up space that might otherwise be used for revenue-generating housing. Surface parking is cheaper to build, but still costly because a parking lot could otherwise be an entire apartment building.

Another option for developers would be to bundle parking into the cost of a unit, raising the rent for every tenant whether they use parking or not.
"These people do indeed bike. And they walk and they bus. But they still have cars."
— William Gregg, Buckman Community Association
As it is, some residents who rarely use their cars seem to be finding that parking a few blocks from their home isn't a big burden — at least when the price is $0.
"These people do indeed bike," said William Gregg, a Buckman Community Association member who lives near a new apartment building at Southeast 12th and Taylor and who sits on the stakeholder committee for the Portland Bureau of Transportation's new study of auto parking. "And they walk and they bus. But they still have cars."
"They're not just parking, they're using the street for storage," he added. "I've got cars parked back here that hasn't moved for two weeks."
Meanwhile, though the new building near his house is now half occupied, Gregg said its garage is empty. He said the developer is asking $120 to $150 for spaces in its parking area.
"I don't see anybody parked there at midnight," he said. "Not a single car."
Correction 10/24: An earlier version of this post incorrectly described Gregg's position with the Buckman Community Association. He is a member but not a board member.
— The Real Estate Beat is a regular column. You can sign up to get an email of Real Estate Beat posts (and nothing else) here, or read past installments here. This sponsorship has opened up and we're looking for our next partner. If interested, please call Jonathan at (503) 706-8804.