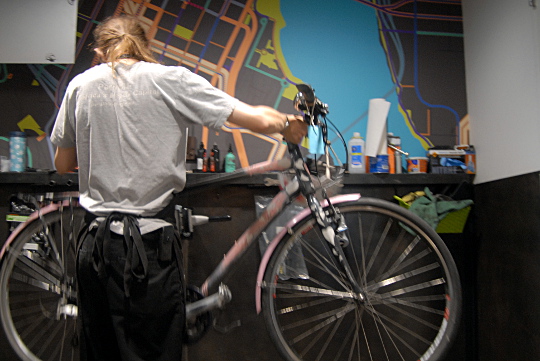 Tech firm New Relic hires a mechanic to visit its Portland engineering headquarters and give free bike tuneups to its commuters.
(Photos by M.Andersen/BikePortland)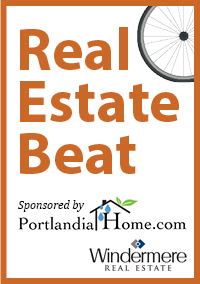 In 2012, one of Portland's fastest-growing employers told the managers of Oregon's biggest office building that it would walk away from any lease offer that didn't allow employees to bring their bikes up to the 28th floor office.
The company, software performance management startup New Relic, got its way. Two years later, its 180 employees in downtown Portland's U.S. Bancorp Tower are enjoying the benefits: the most attractive commercial bike parking in the city and a workplace where bike-commuting is about four times more common than driving.
New Relic also seems to have kicked off a new local trend, the Portland tech scene's version of Silicon Valley's on-site laundry services and all-you-can-eat buffets: hiring a bike mechanic to come by the office for free on-site tuneups while the bikes' owners are at work.
"There's nine people signed up today, and a dozen bikes that have been tagged," New Relic's guest mechanic, Darin Wick of Pedal Bike Tours, said Thursday as he hurried to pump tires and tighten cables for many of the 37 bicycles hanging, leaning or (in one case) sitting neatly folded in the company's 1,000-square-foot bike parking area.
Photo by New Relic. The company's bike amenities are up for a People's Choice award at Saturday's
Alice Awards banquet and ceremony
by the Bicycle Transportation Alliance.
Wick comes to New Relic's office once every three weeks. The company pays Pedal Bike Tours $40 per tuneup, of which each bike's owners end up paying about $8 in additional taxes. That's because bike maintenance isn't recognized by the IRS as a fringe benefit.
"I keep joking that I ought to bring in bikes and get them tuned up, and charge people $10 off the street," New Relic software engineer Jonathan Thurman said.
New Relic's parking area, a line of wood-trimmed metal slabs with affixed hooks isn't physically beautiful — it's a just storage area, after all — but, sitting just to the right of the office's main entrance, it's arresting. Then there are the details: a bike map of downtown Portland painted on the ceiling above the in-house bike repair workstation, the sign that references Portland's annual Bunny on a Bike Ride, a shoe-drying rack that during the winter had inserts with built-in heating elements, a rack of personalized shower bags hanging in the adjoining locker room, a wall of rubber coat-hooks that you eventually realize are handlebar grips.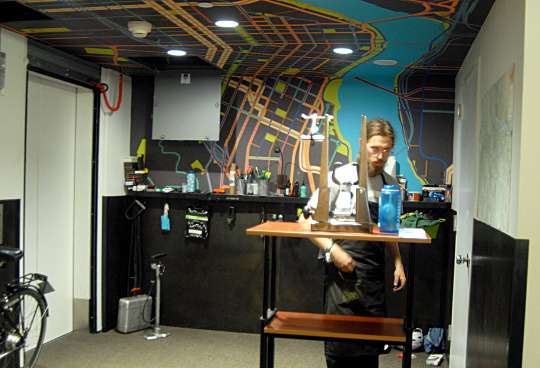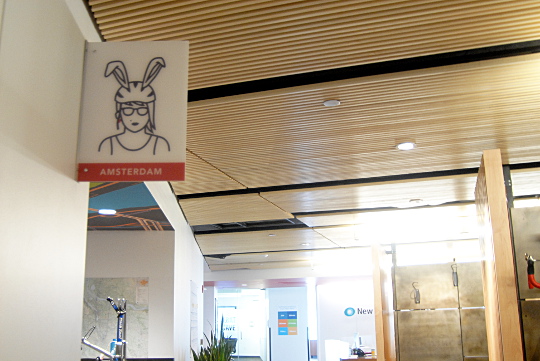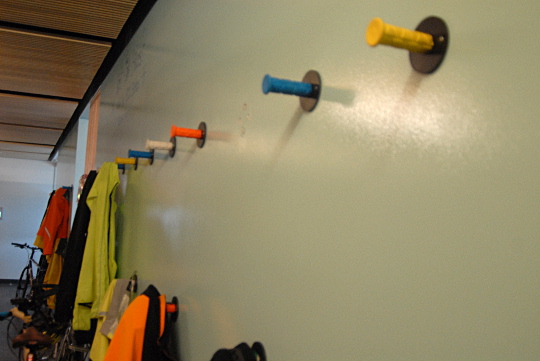 In any case, it's working.
Asked how many of New Relic's 180 local employees drive to work, executive assistant and office manager Mary Cameron began ticking off names on her fingers with the help of two colleagues.
"Jim drives," she said. "I think Patrick drives."
They made it to six before getting stuck.
"Less than 10," Cameron concluded.
Next month, New Relic will expand into the 29th floor of the big pink office tower, adding room for more than 100 more employees and another 800 square feet of in-office bike parking space. It comes out to about 10 percent of the firm's total office lease, enough for a few dozen employees to set up desks if the company had chosen to use the office tower's normal bike parking area in its underground garage.
But the unwelcoming, remote space outside the office wouldn't fit New Relic's culture of bike-friendliness, said Jesse Dearing, a software engineer who moved to Portland from Dallas in 2012 to join New Relic and started bike commuting as soon as he realized how many of his co-workers were doing it.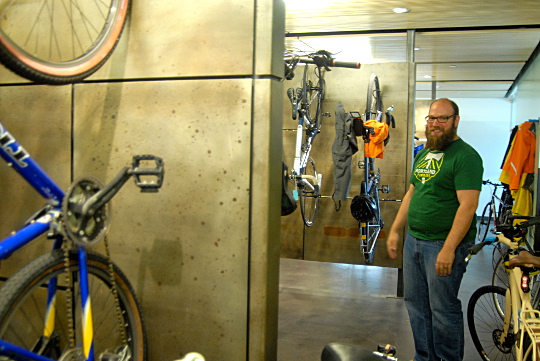 Jesse Dearing started bike commuting and is now a hub of the company's biking community.
"It's contagious," he said. And a recruiting tool, too: "Whenever we bring people in for an interview and they see all the bikes, it's really impressive."
At the advice of a co-worker, Dearing sold the heavy, undersized bike he'd brought with him from Texas and bought a Surly Crosscheck from City Bikes on Southeast Ankeny. After he started bike-commuting daily, he moved from Parkrose to Montavilla, dropped 30 pounds and became one of the company's lead evangelists for biking.
Before that, Dearing had ridden TriMet, which is the most common way for employees to get to New Relic. Dearing decided to make the jump to biking when it was time to renew his transit pass — a benefit that, it's worth noting, New Relic chooses not to subsidize, other than letting employees buy them with pretax income.
Then again, it doesn't subsidize employee auto parking costs, either.
"You have to pick and choose," Cameron said. "And we chose bikes."
— The Real Estate Beat is a weekly column sponsored by real estate broker Lyudmila Leissler of Portlandia Home/Windermere Real Estate. Let Mila help you find the best bike-friendly home.