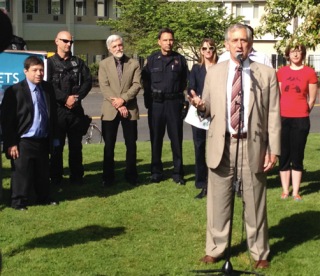 Mayor Hales, flanked by Commissioner Novick,
Police Chief Mike Reese, PBOT Director
Leah Treat and others at the press conference
this morning.
(Photo J. Maus/BikePortland)
This morning at Kenilworth Park, Portland Mayor Charlie Hales and Transportation Commissioner Steve Novick announced their plans to bring a vote on their street fee to City Council on June 4th.
The monthly 'Transportation User Fee' will be $11.56 per single-family household, $8.09 for low-income households and will rely on a calculation based on trip generation for businesses.
At the press conference, Commissioner Novick handed out a statement that read, "If it's good enough for Oregon City, it's good enough for Portland." $11.56 is the exact same amount Oregon City charges their households and the mayor of that city was the first to address the crowd this morning. "It's been very successful for us, and I presume it will be successful for Portland."
The fact that 28 other cities already have some type of street fee has been a major selling point of this potentially controversial effort.

Mayor Hales spoke with confidence about his plan to not bring the fee to a public vote. He said he hasn't polled all the commissioners but he thinks Commissioner Amanda Fritz is supportive. "We have a majority already," he said. For Hales, this move is about taking action on a problem he's personally been talking about since he was City Transportation Commisssioner 14 years ago. During his speech this morning he said his staff looked into the problem of dwindling transportation funding in 2000 but "backed off" trying to solve it. Then in 2007, he explained, former Mayor Sam Adams' attempt to figure out "was stymied by opposition."
"We've resolved to stop talking about it and do something about it."
With some Portlanders wanting this new fee to go to a vote of the public, the city announced today that in addition to the ordinance that will go to Council, they also plan to put a charter amendment to a public vote this coming November. That amendment to the fee plan will specifically state that the money raised from the fee — expected to be about $40-50 million per year — will only be spent on transportation projects. Hales said he's aware that there's a "deficit of trust" in the public about how the City spends their money and this amendment is part of "making progress to restore that trust."
Commissioner Novick said he wanted this morning's event to be held at SE 34th and Gladstone Holgate because currently people in cars are "whipping around" the street corners even with two schools and a senior center nearby. "We want to put in two rapid flash beacons so kids can get to school and seniors can get to the transit stop." If voters don't like the fee, Novick said, "They can throw us out."
The city lined up two small business owners to speak in support of the fee this morning. One of them, the owner of a game store on SE Foster, said he's seen four crashes and there's been a fatality near his business in the past few years. He said the fee will improve both his street and his business, all for less than 1/3 of one percent of his revenue."That's less than my phone bill," he said.
The owner of Paloma Clothing said he supports the estimated $120 per month his business will be required to pay. "That's a burden, but a bearable one that will make our streets safe and sound for our customers' cars, bikes, and children." He also called on Portlanders to support local businesses because, "Amazon.com won't be paying a dime to make our streets safe."
As for the fee itself, the city also clarified today how the money will be distributed.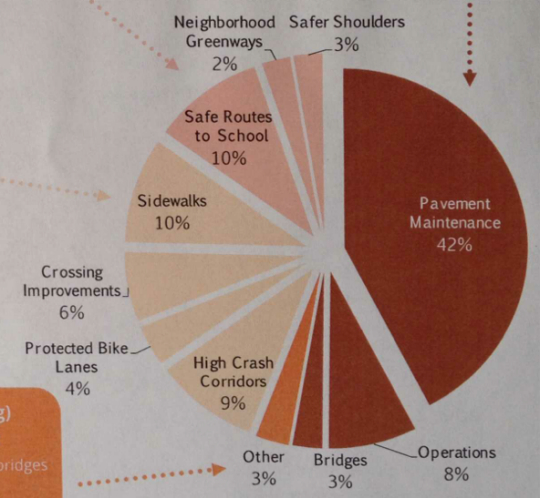 As you can see in the graphic above, pavement maintenance will get the lion's-share of investment. Overall, what PBOT describes as "Maintenance Projects" will get 53 percent of the funds, while "Safety Projects" will get 44 percent (with "Other" getting the remaining 3 percent).
Other elements of the Transportation User Fee is a credit for small-business owners, the formation of a new oversight committee, a commitment to annual reporting, a project selection criteria, and an appeals process. We have yet to dig into the full text of the ordinance, so stay tuned for more information.
If Council passes the TUF on June 4th as expected, the implementation of the fee would be effective July 1, 2015. According to Mayor Hales, that gives people time to figure the fee into their monthly budget.
— Learn more details from the Portland Mercury and the Willamette Week.
UPDATE: Below are PDFs of the draft ordinance (and exhibits) and charter amendment…
– Draft Resolution for Charter Amendment
– Draft Ordinance
– Exhibit A
– Exhibit B
– Exhibit C
– Exhibit D